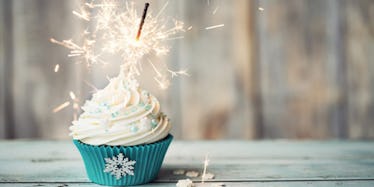 Champagne Cupcakes Are Here To Make Your New Year's Eve Dreams Come True
Shutterstock
Not too long ago, we stumbled upon an epic alcoholic ice cream that could actually get you drunk.
If the thought of getting wasted off ice cream made all of your drunken dessert dreams come true, you might want to brace yourself... and grab a fork.
Yep, that's right. We just found another boozy dessert that will let you have your cake and turn up, too. What could be better for NYE?
Behold: champagne cupcakes.
We're not kidding. A lot of people have been incorporating a little bubbly into their baking by whipping up champagne-infused cupcakes topped with fizzy frosting.
Noshing on these chic sweets as you pop bottles with your best friends is the perfect way to turn up as you watch the ball drop on New Year's Eve.
Plus, let's be real, who doesn't love stuffing their face with a tasty treat that also gets them tipsy?
If you're looking to ring in 2017 with a round of these sparking sweets, you'll be glad to know they're actually pretty easy to make.
You can embrace your inner-Martha Stewart and whip up a batch of champagne cupcakes from scratch by following a recipe, like this one featured on Live, Love and Sugar.
Or you can cut a few corners by using boxed cake mix and just swap out the water for champagne.
Then mix together 1/2 cup of butter, 4 cups of powdered sugar, 1/4 cup of champagne and a teaspoon of vanilla for the perfect champagne-flavored frosting.
Plus, it never hurts to add another shot of booze on top for good measure, either. Right?
Whether you opt for some classic brut cupcakes topped with shimmery sparkles...
or give your confections a pop of color with some pretty pink champagne...
clinking cupcakes is the perfect way to make a tasty toast to 2017!
Cheers!
Citations: The Champagne Cupcakes Recipe That's Light, Fluffy, and *Bubbly* (Shape)