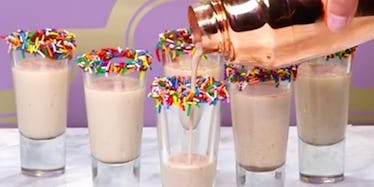 Boozy Nutella Shots Prove Adding Alcohol Can Make Even The Best Treat Better
Cosmopolitan
As much as I love getting my booze on, I have an unpopular drinking opinion: I'm not a big fan of shots.
Don't get me wrong, a few years ago I was leaning on the bar and knocking back shot after shot with the best of them.
But, let's be real: They taste horrendous, and these days I find myself recoiling when someone suggests taking a shot.
But, these — these beautiful, magical creations — these I could down constantly until the sun comes up.
Ready to give yourself an immense craving that will last for days? Just watch this video from Cosmopolitan, blending two of life's best things.
What I'm trying to say here is boozy Nutella shots exist, and we need to talk about it right now.
Yep, Nutella, that sweet, chocolatey hazelnut paste you probably ate a whole jar of (straight out the jar, obvs) the last time you had a bad breakup.
Now, Nutella is majestic on its own, don't get me wrong, but it can in fact be improved — by adding alcohol.
I mean, it's a well-known fact adding chocolate or alcohol to pretty much any kind of food can makes it waaaaaay better.
So combine the two, throw in some Bailey's (of course) and you've got yourself a beautiful concoction that's sure to be a crowd pleaser at your next pre-game.
And for something so ridiculously perfect, it's pretty easy to make.
First, rim a shot glass with Nutella and sprinkles.
Next, add ice, a tablespoon of Nutella, an ounce of Bailey's and an ounce of vodka to a shaker.
I mean, these are the instructions on the recipe but feel free to add more booze if you want to. I'm not judging.
Oh, and if you're not a bartender and don't have your own shaker, just use a big jug and you're sorted.
Then, mix it all together and pour your mixture into shot glasses.
Finally, turn UP.
Citations: If You Love Nutella, You're Going to Lose It Over Nutella Shots (Cosmopolitan)