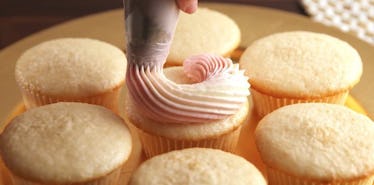 Boozy Moscato Cupcakes Exist And They're Perfect Sweets For Your Girls' Night In
Delish
You're going to crave something sweet after serving that cheese platter and an endless abundance of guac, so why not whip up a batch of cupcakes for your next girls' night in? Take the plain 'ol vanilla frosting and give it a boozy and fizzy fix by learning how to make Moscato cupcakes, Delish's latest inventive recipe. The masterminds behind this dessert clearly know the ingredients for a successful get-together.
Not that you need any extra convincing that wine is a must for gatherings, but these babies will guarantee you're the hit of the clique, the Queen Bee of desserts (only nice!). You will be the group's 21+ answer to Willy Wonka. So without further ado, let's get down to business — you have an event to host and stomachs to fill.
Delish details exactly what you need to get started.
1 box white cake mix
1 3/4 cups Moscato, divided (use additional bottles for a glass of bubbly, if you so choose)
1 cup (two sticks) unsalted butter, softened
4 cups powdered sugar, divided
1 tsp. pure vanilla extract
pinch of kosher salt
pink food coloring (perfect for Wednesdays)
White nonpareils
Now that you've hit the grocery store, it's time to get baking.
Get your muffin tin out and preheat your oven to 350 degrees. Make sure to line the tin with 12 cupcake liners. Then, head into your cupboards to find one of your large bowls to start preparing the cake mix. You'll need to add 1½ cups of Moscato to the mix and follow the package's directions when making preparations. (If you're feeling adventurous, pour a bit of the wine in a glass while you're getting your Martha Stewart on.)
Making the frosting is the best part.
Find another large-sized bowl and combine butter, 2 cups powdered sugar, vanilla extract, salt, and ¼ cup Moscato. (Moscato frosting, Moscato cake — Moscato, Moscato, Moscato!)
Next, you'll take out your hand mixer and beat until the frosting is smooth. Then, make sure to add two cups of powdered sugar and beat until it's light and fluffy. Now, the fun starts: Separate the frosting into two bowls: One will be the vanilla frosting, the other will add three drops of pink food dye. Get a piping bag to decorate your cupcakes with their boozy frosting and throw on some sprinkles at the end for good measure.
The foodies at Delish have the boozy desserts on lock, so if you're feeling inspired, you're definitely going to want to check out their recipes. If you're a visual learner, the site also provides a video detailing the steps required to make the treat.
If you're feeling more scandalous and looking to go a bit wild, might I suggest Delish's Fireball cupcakes? 
Things are about to get adventurous in the kitchen!