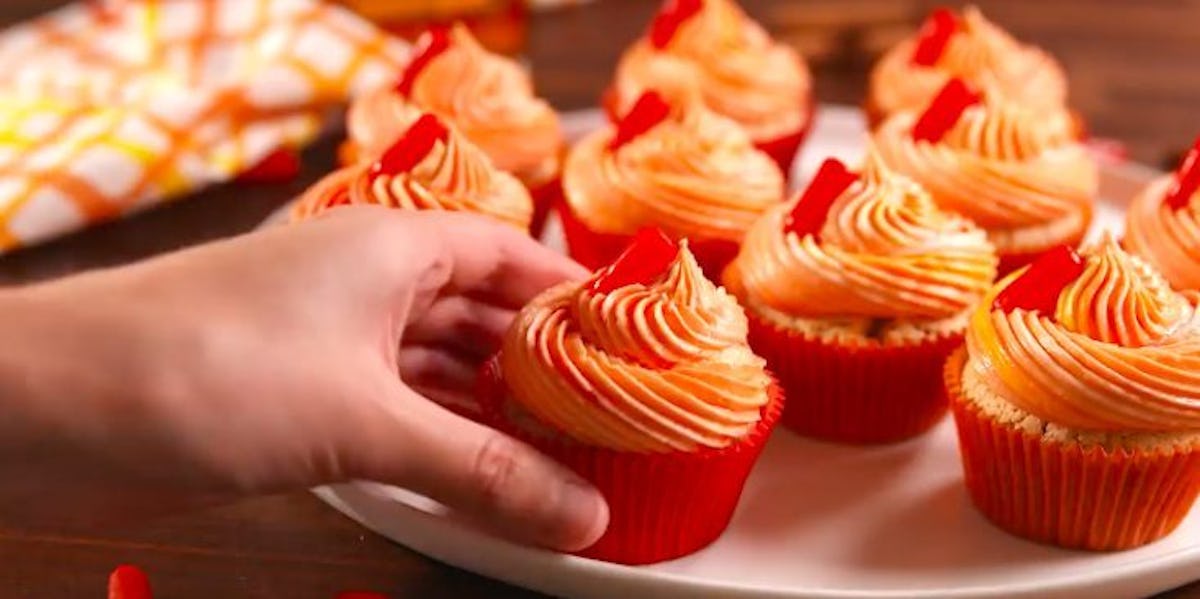 Boozy Fireball Cupcakes Are Here To Spice Up Your Party And They Look Delicious
Odds are when you think about Fireball Whiskey, images of crazy nights run through your mind. Though Fireball is a great choice of shot when you want to get lit, it also makes for a pretty solid ingredient while baking cupcakes. That's right, folks: If you've ever wondered how you can make a delicious treat while using your Fireball Whiskey as an ingredient, here's how to make boozy Fireball cupcakes. Delish published the recipe and we can't get enough of them.
To get started, you're going to need:
A box of yellow cake mix
1 tablespoon of cinnamon
1/2 cup of vegetable oil
3 large eggs
1 1/4 cup of Fireball Whiskey
1 cup of unsalted butter
4 cups of powdered sugar
1 teaspoon of pure vanilla extract
A pinch of salt
Red and yellow food coloring
Hot Tamales for decoration
Once you've picked up these delicious ingredients, you can start cooking up your sweet and spicy dessert.
Making Cupcakes
To make your cupcakes, start by preheating your oven to 350 degrees and add the cupcake liner to your muffin tin. In a large bowl, mix cake and cinnamon together, and then add vegetable oil, eggs, and one cup of Fireball Whiskey. Add your mixture to the muffin tin and bake as directed on the cake box. Check out this Delish video for a complete rundown of the recipe.
Making Frosting
To make the frosting, mix butter, half the powdered sugar, vanilla, salt, and 1/4 Fireball Whiskey in a large bowl. Use a hand mixer to beat until you have a smooth consistency, then add the other two cups of powdered sugar and beat until your frosting is light and fluffy. Stir in the yellow and red food coloring, making sure not to over-mix -- because you definitely want some streaks, right?
Then, pipe your frosting onto your cooled cupcakes and top with a Hot Tamale for decoration. Again, say thank you to Delish, for this amazing recipe.
That was pretty easy, right? Now you have yourself a delicious batch of Fireball cupcakes that'll make it socially acceptable to enjoy the whiskey early in the day. Just make sure not to have too many of them, you never know what'll happen when Fireball is in the mix.