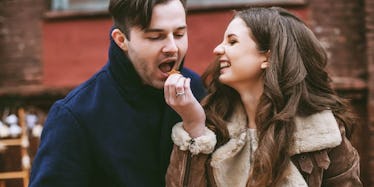 7 Healthy Fall Treats To Bake With Your SO If You Both Have A Sweet Tooth
Shutterstock
While wintertime has its staples, and summer is obviously dedicated to feel-good barbecue food, autumn is the only time of year when seasonal delicacies are consumed on overdrive. If there's anything better than eating pumpkin and apple everything, it's baking these delectable fall dishes in bulk. One quick Pinterest search will provide plenty fall treats to bake, so if you're in the mood for making something sweet, 'tis the season.
Plus, they say the best way to your SO's heart is through their stomach, right? Personally, I love being in control of my kitchen, but there's something sweetly nostalgic about wrapping yourself in an oversized sweater, sipping cocoa, and baking with the one you love on a blustery day. In fact, studies show that the more time couples spend doing the simple things like cooking with one another, the happier and stronger the relationship will be.
Diving into a project like baking a cake or making cookies on a fall afternoon is a cheap, laid-back activity that you and your significant other can easily enjoy together. Not only will the end result tickle your taste buds, it'll also prove that you can work seamlessly and happily together.
In relationships, baking is more than a means to an end -- it's a way to really connect, work together, and learn about each other's strengths both in and out of the kitchen. So pick a day to skip the pumpkin patch, ditch your usual PSL purchase, and spend some time with your SO in the kitchen this fall to bake up something sweet and reap all of those delicious relationship benefits.
1. Butter 'Em Up With Pumpkin Butter
One of my favorite fall activities is browsing farmer's markets for homemade butters and jams, but sometimes you get a stand that offers slim pickings. Not to omit the experience from your bucket list completely, but if you're craving a scoop of pumpkin butter to spread on a piece of toast on a cool fall morning, it's super easy to make your own batch.
The Minimalist Baker's recipe takes 20 minutes to put together and requires less than 10 ingredients. Whip up a jar to share, and feel free to liberally add on top of waffles, crepes, or even in between sugar cookies.
2. For Those Who Love Their Pumpkin So Matcha
Matcha has been the it-sip of the summer, so why jump ship once PSLs take the spotlight? Answer: You shouldn't.
Healing Butterfly is combining pumpkin spice and matcha to create a not-so-basic fall beverage. This powder blend is 100 percent kosher, organic, and homegrown on a family farm in Japan. It's nutrient-dense, detoxifying, and a sweet additive for smoothies and shakes if you're feeling fancy.
3. In The Mornings, We Make Waffles
Even though pumpkin has clearly won most popular fall food over the last few years, let us never forget that apple is still very much an autumnal staple.
Instead of picking up a pair of bagels on your way over to your SO's house this weekend, opt for an alternative fall treat to kick off the day. Waffles are amazing no matter what season it is, but these apple cinnamon waffles from Rachel Mansfield's recipe box are an absolute must for fall mornings.
4. Savor This Pumpkin Cookie Skillet
While you're not-so-patiently waiting for Oreo to announce they've created the pumpkin sandwich cookie of your dreams, you and your SO can make your own fall treat that tastes and smells like pure autumn.
All you'll need is a half hour, one cake pan, pumpkin purée, and all the fixings combined in this "Once Upon A Pumpkin" blog post to create a totally decadent cookie for you and your boo. You can decorate with icing, sprinkles, chocolate chips, or keep it plain. I dare you two not to eat the whole thing in one sitting (but it does make for the perfect movie night snack).
5. Health-Conscious Candy Apples
Rachael DeVaux's cinnamon flax granola baked apples are still an indulgence, but with coconut flakes, granola, and flaxseeds making an appearance, this treat is still on the healthier side of your sweet tooth.
Candy apples doused in caramel, chocolate sauce, and sprinkles are a classic Halloween tradition, but let's make it a little more adult-like this autumn, shall we? These are the perfect fall treats for you and your SO to serve at a holiday soirée or a relaxing Sunday family gathering.
6. Make A Plate of Pumpkin Spice Snickerdoodles
I was a die-hard chocolate chip lover until my mother introduced me to the wonders of a cinnamon snickerdoodle swirl.
You can get a little fancy by making a batch from scratch, but in true fall tradition, grocery store shelves are stocked with pumpkin spice cookie boxes. If you're low on time, or if you and your SO just prefer to box-bake, this is an easy way to please your taste buds.
7. Go Crazy For Fall Fruit Crumble
Personally, I love baking treats in large batches so there's plenty of leftovers to snack on for days after the fact. Not only can crumble be made in large quantities, it's also super customizable.
Alyssa of Simply Quinoa released a video on her YouTube channel over the summer explaining how to make a blueberry crumble, and it's the best basic recipe that allows you to swap out the fruit she used for any ingredient you may prefer Baked apples, cranberry, pumpkin chocolate chips -- the world is your oyster.