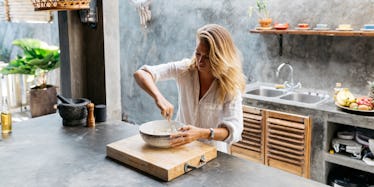 7 Essential Items For When You're Trying To Meal-Prep Your Way Through The Week
I know I'm a foodie, so of course I'll say stuff like this, but I promise you, there is more to meal-prepping than cooking.
Since the technique spread over social media like wildfire, with bloggers and influencers swearing by its convenience, meal-prepping has become an art form, a process.
There are a number of components that can make or break your week that go way beyond grocery shopping and how to roast a large batch of vegetables.
So before you get started in the kitchen, take a few minutes to run through the following checklist.
These are seven key items to help you meal-prep properly, from deciding what produce to purchase, to storage containers and so much more.
1. Take Advantage Of The Multi-Spice
Trader Joes 21 Seasoning Salute, $14, Amazon
Disclaimer: The spices that cleanse my palette won't necessarily do the same for you, so take this with a grain of salt (see what I did there?).
But with Trader Joe's all-inclusive shaker bottle (in which an impressive 21 herbs have somehow been combined without error), there's a good chance you and I can agree on its versatile purpose.
Ingredients include such yummy flavors as onion, black pepper, celery seed, cayenne pepper, parsley, basil, marjoram, bay leaf, oregano, thyme, savory, rosemary, cumin, mustard, coriander, garlic, carrot, orange peel, tomato granules, lemon juice powder, and oil of lemon. Is that enough for you?
Toss it over veggies, create a rub for meat or fish, and even sprinkle a little over scrambled eggs for added flavor.
The limit truly does not exist with how many uses you can come up with for this spice rack in a bottle.
2. Update Your A-List
Knock Knock Stuff All Out Of Pad, $12, Amazon 
The key to meal prepping is knowing what you have, and what you still need to purchase for the week.
Make a date with your kitchen, and keep it, either the day before or day of grocery shopping.
Sift through your cabinets and figure out what kind of meals you can create with what you've been storing, and what you still need to buy.
Be sure to chuck anything old, expired, or items you know you won't eat (remember that canned goods can be donated!).
Once you have a better idea of what you'll be making within the next week, make a detailed list, divided by food pyramid credentials or day of the week.
The All Out Of Pad makes organization so much easier, and it'll also save you time at the store, because rather than weaving in and out of aisles searching for this item or that one, everything is separated by produce, protein, dairy, etc. so you can grab it all in one shot.
3. Organize On-The-Go
Bentgo All-In-One Stackable Lunch/Bento Box, $15, Amazon
No doubt you've seen these babies floating around your office.
Bento boxes are the trendy, adult version of the zip-up bag you toted around grade school, except much more chic, and way more durable.
Made microwave-, freezer-, and dishwasher-safe with only food-grade materials for safer, healthier storage, each Bentgo box includes a set of one fork, knife, and spoon.
These are excellent for anyone who packs large lunches, or a number of miniature meals throughout the day.
Relish in the fact that you won't be that jerk coworker taking up all the room in the office refrigerator.
4. Pencil It In
Book Factory Food Journal, $7, Amazon
I live for organization.
Ask anyone, and they'll tell you that choosing my planner each year is a process, and I have high expectations for the little extras it should entail (a notes section, as well as a boxed calendar sheet, and stickers are a huge plus).
Food journaling often proves to be an even bigger project for me.
It's not complicated to wing it in the kitchen if you have your weekly staples down to a science, but for new recipes or goals, it's helpful to have a written aid on hand.
Book Factory's Food Journal is affordable, its structure is easy to digest, and by dividing meals by food item and nutritional value, it can even double as a shopping list.
5. Compartmentalize
Pyrex 18 Piece Simply Store Food Storage Set, $30, Amazon
Containers are an absolute priority when it comes to meal-prepping.
Not only will the type of storage you choose determine how fast your food will spoil, but it'll also define your individual fridge aesthetic (which, in my opinion, is super exciting as a self-proclaimed foodie).
I have a few Pyrex containers, and I honestly just love the look and feel of them. The glass is sturdy, easy to clean, and looks so fresh on the shelves of my fridge.
6. Divide Pretty
Korken Glass Jar With Lid, $4, IKEA
Thanks to my Pinterest-inspired dream kitchen and blogger Lee Of America's pantry, I recently purchased a few mason jars to organize my cabinets and refrigerator shelves for a minimalist-meets-hipster aesthetic.
Yes, I do feel cool filling them up with seeds and snacks and berries.
No, this isn't just a decorating tactic.
Available in a range of sizes, these glass jars are just as cheap as they are chic, so stock up.
7. Keep Tabs On Your Favorites
Feedly.com Account, free, Feedly
It's easy to fall into a meal prepping lull where you're almost robotically making the same meals over and over again.
It's important to have your staples (fruits you enjoy most, veggies you love, and ones you'll tolerate), but food is meant to be enjoyed every time you eat it! Do your research, and bookmark websites and blogs that pique your palette's interest.
Feedly is a customizable news feed where all of your favorite websites and blogs are at your disposal in a single tab, divided by interest.
Dedicate a portion to food resources for recipe inspiration, spice recommendations, and more to browse through come Saturday evening when it's time to make that week's shopping list.
It's helpful, and it keeps cooking fun (because the truth is, it isn't always a picnic).