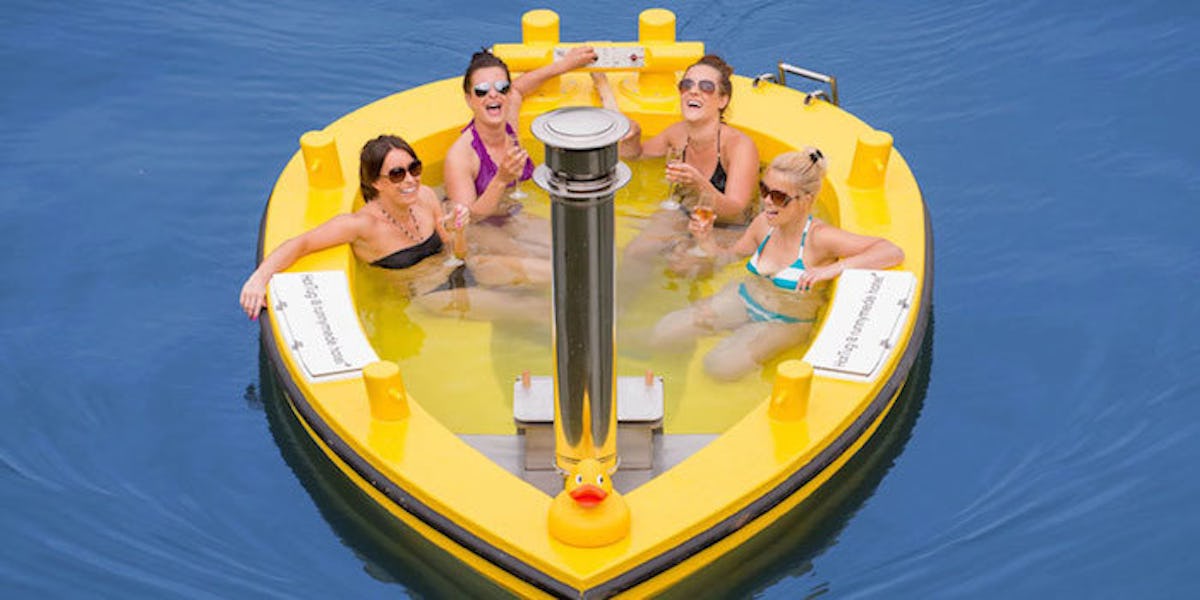 Some Genius Invented A Floating Hot Tub And It Looks Beyond Amazing (Photos)
HotTug
There are few things quite as relaxing as a long dip in a hot tub. Sadly, a long soak is a rare luxury for most, as not everyone has the space to install one of the oversized baths in the backyard.
One Netherlands-based company just created a solution: The HotTug, a hot tub designed to float in large bodies of water such as rivers or lakes.
The six-to-eight person tub, designed by Dutch designer Frank de Bruijn, boasts a fiberglass and wood body and can fit about 475 gallons of water.
The water is warmed via a stainless steel stovepipe, which is designed to stay cool to the touch, ensuring safety and comfort for all those relaxing within the confines of the tub.
Unfortunately, the HotTug is only available to rent, and it's only available in a handful of European cities.
Still, next time you find yourself in, say, London or Copenhagen, we'd seriously recommend hopping aboard this bad boy.
It's the epitome of relaxation and ridiculous luxury -- which, as far as I'm concerned, is what vacation life is all about.
It's a hot tub at sunset... on a river. Yes.
You can blissfully float downstream.
It fits all of your friends.
It's like a mini party boat.
Citations: A Floating Hot Tub That Lets You Enjoy A Relaxing Dip While Cruising The River (Design Taxi), I Want To Ride In This Hot Tub Tug Boat (Gizmodo)