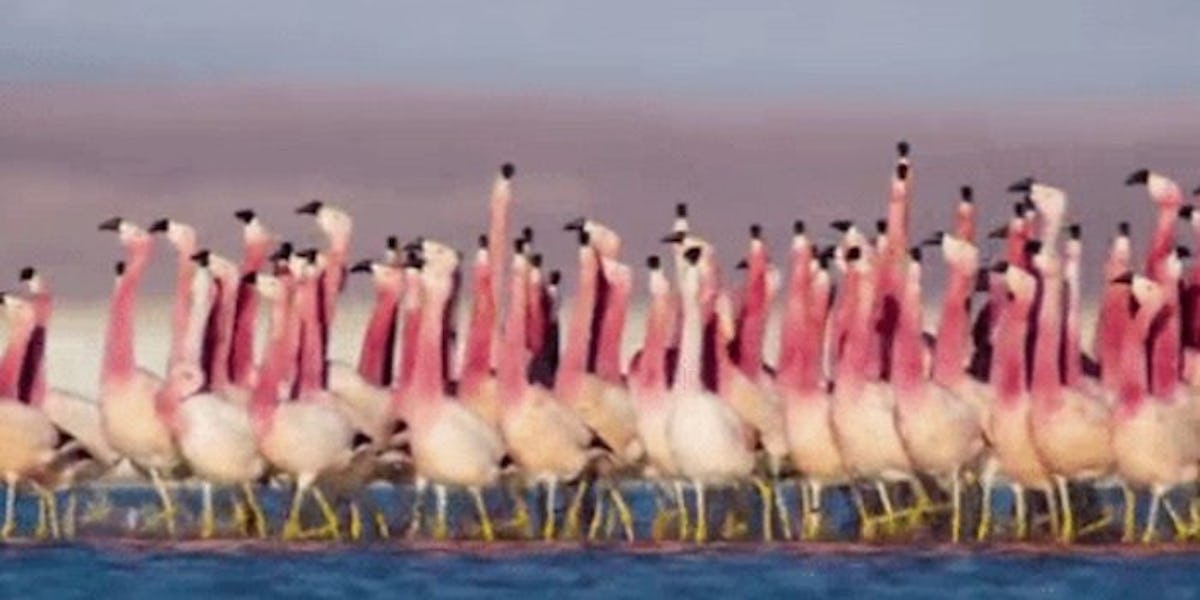 This Mesmerizing Flamingo Ballet On 'Planet Earth II' Has A NSFW Message
BBC
Everything in the animal world is about sex.  "Planet Earth II" is out, and you know it's INTENSE because they used Roman numerals instead of just writing "2."
It has not yet been confirmed, but many believe the BBC intended to influence our marijuana laws with the release of this series.
Now, as I'm sure you are aware, it has long since been known that displaying the resplendence of the natural world in HD makes smoking weed more pleasurable than holding your baby in your arms for the first time.
Setting this conspiracy theory aside, in one episode we see a flock of flamingos (which, honestly, I don't entirely believe exist) engaged in a series of beautiful pink marches.
The flamingos in this specific scene are known as the James's flamingo -- which is, of course, the most uncreative name for a species since we called flies "flies."
Human #1: What should we call those things that fly around? Human #2: Flies. Human #1: OK. Human #2: What about those pink birds over there? James: James's flamingo. Human #1: Who are you? James: I'm James. Human #2: OK.
OK, they're also known as Andean flamingos, but whatever. I really wanted to make the above joke, so shut up.
Now, aside from the fact that these creatures look like they're perpetually auditioning to be in a Pixar movie, it turns out all their most beautiful and fascinating behaviors revolve around sex.
In fact, these large, synchronized "promenades" serve a very specific reproductive purpose.
As the Daily Mail puts it:
To feel comfortable enough to breed, as many birds as possible need to be 'in the mood' at once.
Because this species lives in extremely harsh climates, they put off the breeding process until conditions are perfect.
This is likely why they sort of all "decide," collectively, when to have sex through this ritual.
And you have to admit, it is pretty hot.
So, basically these birds are doing this:
And this:
But don't worry, they also throw down solo. Check out the spinning-in-place game this hot 'ingo is getting up to:
After watching that video, I immediately went to retrieve a Lana Del Rey gif, but the internet beat me to it:
God, I love you all.