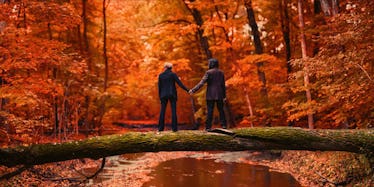 15 Extraordinary Destinations To Fulfill Your Fall Wanderlust (Photos)
Fall is, hands down, the best season of the year.
The cool, crisp air transforms the world around us into a kaleidoscope of orange, red and yellow sights that are seriously Instagram-worthy.
Not to mention, there's just something about sipping a PSL as you look at colorful leaves that feels so damn magical.
Really, why else do you think girls go bat sh*t over this season?
If you've been getting in on the autumn spirit by taking pics of the tree in your backyard, or even worse, snapping photos showing off a pile of dead leaves beside your Uggs, I have some bad news.
You've been missing out on some of the best sights this season has to offer.
It turns out there are tons of places around the world where the leaves turn into a stunning display of fiery shades.
So fall is actually a pretty awesome time to give into your wanderlust, expand your horizons and see the incredible foliage of foreign lands.
Seriously, these places are so full of vibrant colors, you won't even need to slap a filter on your photos.
Take a look at the pictures below to see 15 awesome places to visit this fall.
Aspen, Colorado
Llanrwst, Wales
De Hoge Veluwe National Park, Netherlands
Koli National Park, Finland
Adirondack Mountains, New York
Plitvice, Croatia
Mt. Wilson, Australia
Stowe, Vermont
Yedigöller National Park, Turkey
Kyoto Bamboo Forest, Japan
Kelefos Bridge, Cyprus
Heart Lake in Quebec, Canada
Neuschwanstein Castle, Germany
Amsterdam, Netherlands
Acadia National Park, Maine