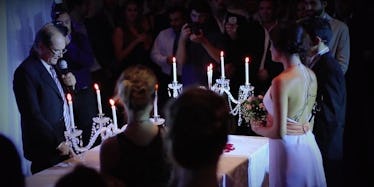 Company Hosts Fake Weddings For People Who Don't Want To Get Married
Let's face it, the best parts of getting married are the wedding ceremony and the reception.
And, when it comes to Millennials, marriage doesn't seem to be on our radars. According to 2013 data from the Pew Research Center, just 26 percent of our generation is married.
And when that number is compared to Baby Boomers who had 48 percent of their generation married by ages 18 to 32, it's safe to say Millennial marriage is on the decline.
But that still doesn't change the fact that the wedding is the best part about the concept of marriage.
That's precisely why I'm not too surprised to learn there's a company out there dedicated to hosting fake weddings for young people who'd rather just have a big party than actually get married.
According to Bustle, the Argentina-based company Falsa Boda specializes in putting on faux weddings; however, all of the guests in attendance must pay in advance to attend.
This means all the clients have to do is select a venue, determine the dress code, note any other preferences they'd like implemented during their fake weddings and pay their dues.
As of right now, Falsa Boda is only servicing those in Argentina, but I can already see this being a hit in Vegas.
Check out the tweets below for a closer look!
Not looking to actually tie the knot? Just have the wedding ceremony and reception instead!
A company called Falsa Boda specializes in putting on fake weddings for young adults.
Since Millennials don't appear to be looking to get married, Falsa Boda makes it easy to have fun minus the strings.
Why commit when you can still have the wedding, get just as drunk and not have any regrets 10 years later?!
Check out the video below for a closer look.
Citations: This Company Throws Fake Weddings For Young People Who Don't Really Want To Tie The Knot — VIDEO (Bustle)