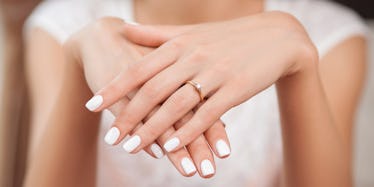 25 Hilarious Ways Women Try To Low-Key Show Off Their Engagement Rings
Shutterstock
If you're suffering from fiancé FOMO, there's nothing more depressing than seeing your friends get engaged while you're sitting at home swiping through a sea of disappointing Tinder profiles.
Seriously, once you hit your mid-20s, it's almost impossible to look at social media without seeing yet another one of your sorority sisters proudly displaying a ring on her finger.
When it comes to announcing the big news, there tend to be two different types of future brides out there.
One one hand, there's the engaged gal who blatantly shows off her shiny, new rock with all sorts of ridiculous ring selfies on the reg.
On the other hand, you have the bride-to-be who tries to be a bit more inconspicuous when it comes to telling the world she's engaged.
But on some real sh*t, these ladies aren't fooling anyone when they post casual pics that coincidentally capture their massive rocks.
Check out the pictures below to see some ladies who attempted to low-key show off their engagement rings.
According to the dash, it's 77 degrees with a chance of bridal showers.
Don't you just love it when your nails match your doughnut?
Here's a pic of my watch, just in case you were wondering what time it is.
Ugh, don't you just hate it when your glove rips at work?
I can't tell which is heavier: these dumbells or this big-ass rock.
Check out my dazzling #OOTD.
I like my lattes the same way I like my diamonds: grande.
But first, let me take a ring selfie.
It just feels like love is in the air.
There's no shame in rooting for your favorite team.
I seriously can't get over how engaging this book is.
I'll take my cocktail on the rocks, please.
I don't know what you're talking about, I've totally been playing the piano for years.
Hmmm, I think jewel tones suit my skin best.
BRB, my phone is ring-ing.
It's so hard to get work done with this distracting diamond on my finger.
I prefer sparkling wine, if you know what I mean.
I'm just putting on makeup, pay no attention to my massive ring.
I hate it when my ice cream drips all over my diamond!
I finally got that wrist tat I've always wanted.
I'm just holding Bae's hand, not trying to show off my bling.
My milkshake brings all the rings to the yard.
Just petting Mr. Whiskers in the purr-fect spot.
Can't forget to snap a selfie with this fur baby, either.
Does this mani make me look married?