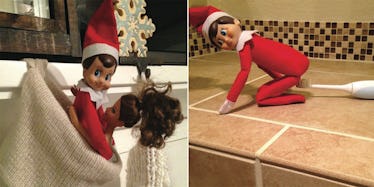 These 'Elf On The Shelfs' Are Definitely Going On Santa's Naughty List (Photos)
Instagram
By now you've probably seen "Elf On The Shelf."
You know, those little elf figures that come out in the middle of the night and wreck havoc all over people's houses during the holiday season?
Usually people tend to keep their elf on the shelf pretty kid friendly.
We might see these festive little figurines hiding amid the holiday decorations or getting into the tin of freshly baked Christmas cookies on the kitchen counter.
But then, there are some people who like to make Christmas a bit more comical by using their seemingly innocent elves to create all sorts of inappropriate, not to mention hilarious, scenes.
Yep, it turns out Santa isn't the only Christmas character who has a "bad" doppelgänger out there.
Whether these bad elves are making the season bright with some booze, celebrating a white Christmas with some of Columbia's finest, or banging Barbie underneath some mistletoe, these naughty elf on the shelfs are guaranteed to make you laugh.
Take a look at the pictures below to see a bunch of elves that are definitely going on Santa's naughty list this year.
Sit on my North Pole.
Dreaming of a white Christmas.
Kim K has nothing on this sexy Santa's helper.
Jumping in the sack with Barbie.
Getting in the holiday spirit with some strip poker.
Sorry not sorry, Olaf.
Time to add the secret ingredient to these cookies.
Checking out the nuts on this cracker.
Making the ultimate XXX-mas film.
Want to play a game?
I always wondered what was in Fireball.
Even elves have needs.
Now that's what you call a potty mouth.
'Tis the season for teabags.
Forget the sugar plums. This elf has visions of strippers dancing in his head.
Girls gone wild: X-mas edition.
There's nothing like the Christmas gift of crabs.
One tequila, two tequila, three tequila. Floor.
Getting some roadhead from a ho ho ho.
'Twas the night before Christmas and all through the house, not a creature was stirring... except for the giant elf orgy going down in the living room.
Yep, this elf is definitely going on Santa's naughty list.