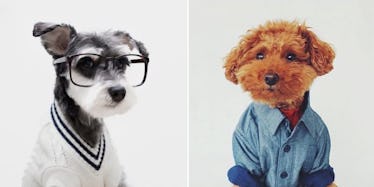 These Dogs Wearing Men's Clothing Have Way More Swag Than You (Photos)
Instagram
By now, you've probably seen Bodhi, the insanely stylish menswear dog and Instagram sensation.
If you thought that dapper dog was awesome, you'll be glad to know he's not the only one marking his territory in the puppy fashion scene.
Recently, the menswear company Mr. Porter recruited some fresh, furry faces for its spring collection.
Instead of using boring humans to showcase the latest looks, it gave five of Instagram's most popular pups menswear makeovers and made one of the most adorable spring lookbooks the fashion world has ever seen.
The new book showcases a variety of doggy styles and features mutt models such as Geordi La Corgi, Otis Barkington, Logan's Look, Chango Leon and Remix the Dog.
No matter what look these little guys are going for, all of these designer digs are nothing short of amazing.
Not to mention, seeing their swagged out ensembles just might inspire you to step up your dog's #OOTD game this spring.
Check out the pictures below to see Mr. Porter's new menswear models.
Mr. Otis Barkington
Mr. Geordi La Corgi
Logan's Look
Mr. Chango Leon
Mr. Remix the Dog
Citations: Doggy Style (Mr. Porter)