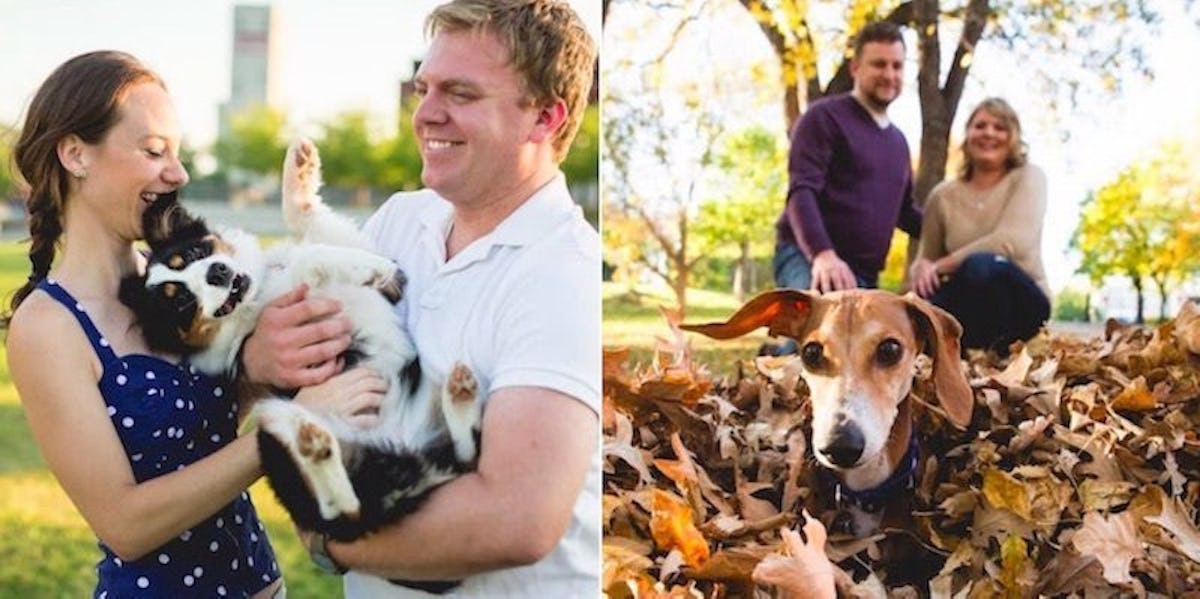 Adorable Dog Photobombs Couple's Engagement Photos And It's Hilarious
When it comes to engagement photos, you never really know what you're going to get!
I've come across a few wild collections of engagement photos like underwater shoots and photos themed after classic movies like Disney's "One Hundred and One Dalmatians."
This time around, it's all about bridging the gap between a pet and a special occasion!
Megan Determan and Chris Kluthe, a Minnesota-based couple, wanted to make their engagement photos even more special by including Determan's dachshund, Louie, in the shoot.
Thanks to DnK Photography, the couple's shoot turned out better than expected, and it's all because of little Louie the leaf-loving dachshund.
In a recent blog post, one of the photographers writes,
For a lot of people pets are family, and so it's only natural to include them in engagement photos. We've taken a lot of sweet, fun and wacky photos with pets, but Louie took it to another level.
Check out the photos below for a closer look!
Are you in dire need of brilliant engagement photo ideas? How about including your pet in the photo shoot?!
DnK Photography can make it happen!
The photography studio works with pets to include them in many couples' special moments.
These photos are great... but there was one little guy named Louie who stood out the most!
When Megan Determan and Chris Kluthe decided to tie the knot, they wanted to make sure Louie was included in their engagement photos.
Rather than sitting off to the side, Louie decided he wanted to be the star of the show!
As you can see here, this special day was all about the little dog, and Louie made that clear by photobombing Chris on multiple occasions.
In a blog post, one of the photographers revealed, "[It] turns out this isn't the first time Louie has photobombed Chris, and Megan is starting to suspect a little bit of jealousy."
Eventually, Louie gave in and allowed the photographers to capture a perfect family portrait.
Want to see more dogs in engagement photos? Keep up with DnK Photography on Facebook.
Citations: Wiener Dog Totally Photobombs Couple's Engagement Photos (BoredPanda), Louie & the epic engagement photo-bomb (DnK Photography)