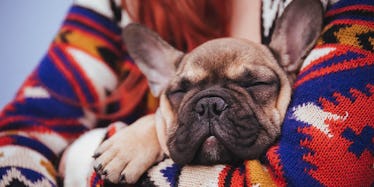 You Can Actually Adopt Dogs At This Coffee Shop In Los Angeles
Danny Pellissier
What exactly does heaven look like? This cafe probably!
Think of Starbucks, but instead of there being Internet-using squatters everywhere, there are dogs. Not just any old group of dogs, either. Adoptable pups looking for a new home and a family to love.
According to LAist, The Dog Cafe will host its grand opening in Los Angeles on April 7. The cafe's concept is simple - drink coffee and surround yourself with the most lovable creatures on the planet.
The cafe will serve as a temporary home to a handful of rescue dogs from local, LA-based animal organizations as well as the South LA Animal Shelter.
As for the coffee? It's supplied by the Grounds & Hounds Coffee Co. - nothing but the best!
The company's website reads,
The Dog Cafe offers a comfortable and fun space for humans and dogs to hang out with each other, far from the cold, often scary environment of overcrowded shelters, which can provoke fear and aggression in perfectly adoptable pups.
If there's one good way to reinvent the environment in which rescue dogs are forced to live in, this is it.
Those dark, cold, dim shelters are no place for any living creature.
Not only does The Dog Cafe help better the lives of pups in need, but it also allows wishful dog lovers, who aren't able to own or adopt their own pets, to spend quality time with a few fur babies.
Those who are able to adopt are welcome to start off by volunteering to foster a dog for the off-peak hours that the cafe is closed.
Now, since this is an organization built to better the lives of rescue dogs, there's a $10 entry fee, but come on, that's a microscopic price to pay when it comes to lending a helping hand to man's best friend.
Interested in learning more about The Dog Cafe? Check out its website!
Citations: America's First Adoptable Dog Cafe Has Found A Permanent Home In L.A. (LAist)