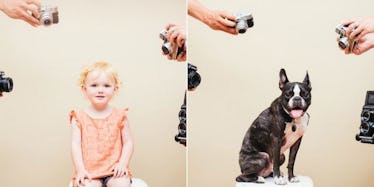 Dog And Baby Recreate The Same Photos In This Unbelievably Cute Series
Who wore it better? This dog or this baby?
Last year Jesse Holland, also known as handfulsoftrouble on Tumblr, took a picture of her daughter wearing a hat her grandparents got her.
Holland then jokingly took a photo of her dog wearing the same hat and got "hooked" on the premise of dressing the dog up like her daughter and asking Tumblr users who wore it best.
A year in, and Holland continues to post squee-inducing side-by-side photos of her daughter and the family dog in matching scenarios.
On her personal page, Holland said,
This was mostly started an excuse to make myself laugh. Hopefully it will also make you smile.
We now introduce you to your new favorite Tumblr page.
Second best ice cream pair, right behind Ben and Jerry.
Dogs wearing glasses deserve their own Tumblr.
Sooo goddamn cute.
Big fan of that thumbs up.
"I said NO cameras!"
"O Canada"
The theme of this one was, "I've got to do laundry."
That's too many backpacks.
This blog deserves a Pulitzer.
One of the few benefits of owning a dog/baby.
This belongs in the MoMA. This also belongs in "MOM-A."
Citations: I photograph my daughter and the dog in the same settings (Bored Panda)