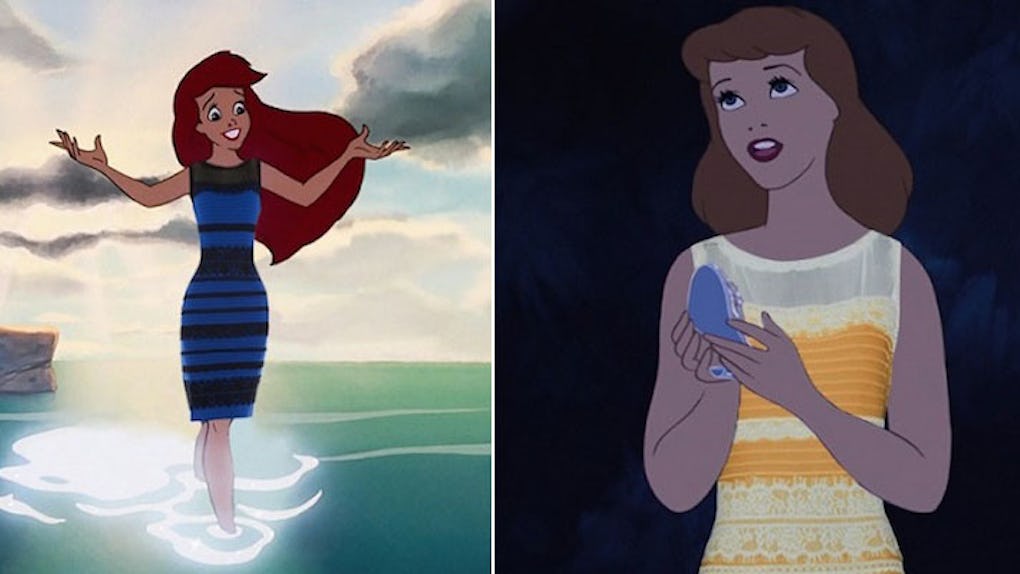 Laura Ahn
Someone Put Disney Princesses In 'The Dress' And The Results Are Epic (Photos)
Unless you've been hiding from those runaway llamas under a rock all week, you've probably heard about the #TheDress that broke the Internet.
This deceptive dress made the whole world wonder if they'd been living a colorblind lie, and it's probably the reason you no longer trust your gold-seeing boyfriend.
But if there's one thing the Internet loves more than a good debate, it's Disney Princesses.
Naturally, it was only a matter of time before these fairytale characters got in on the Dressgate action.
Thanks to Cosmopolitan, you can now continue to argue with your friends and family about the color of the damn dress while also getting your daily dose of Disney because the magazine recently gave all your favorite princesses a style makeover inspired by none other than #TheDress.
These hilarious images show everything from Ariel and Jasmine rocking this dress in its true blue-and-black form to Cinderella and Princess Tiana repping dresses that support the whole white-and-gold side of the scandal.
Obviously, Elsa needs to step in and tell the white-and-gold gals to let it go: The dress is clearly blue and black.
Take a look at the pictures below to see the Disney Princesses in #TheDress.
Ariel doesn't have to be under the sea to know that #TheDress is blue.
Forget the ball. Cinderella's fairy godmother needs to get this girl some better eyesight.
The true, blue-and-black version complements Mulan's coloring.
With eyesight like that, it's no wonder Tiana ended up with a frog.
Meg doesn't need Hercules to tell her what color this dress is.
Pocahontas must think the colors of the wind are white and gold, too.
I'm sorry Rajah. If you think the dress is gold, we just can't be friends anymore.
Elsa and Anna know that everyone should let it go and just accept that #TheDress is blue.
Citations: LOL: Disney Princesses Try On u2018The Dressu2019 Of u2018#DressGateu2019 Fame (Design Taxi)