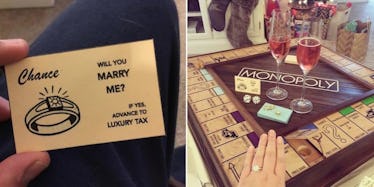 Guy Uses Custom Monopoly Board To Propose, And It's Actually The Cutest (Photos)
It's never good to play games with the person you love -- unless, of course, you're proposing to him or her with an epic hand-crafted board game.
Justin, a Redditor by the name of justinlebon26, won the proposal game by popping the question to his now-fiancée, Michal, with an incredible game of engagement-themed Monopoly.
He posted photos of his proposal project on Imgur, and now, people are losing their minds over this amazing engagement idea.
The couple already had a Monopoly board lying around, but it had some missing pieces. So, Justin decided to make a revamped version of this classic game for the special occasion.
If that's not enough to make your heart melt, every place on the board held a special meaning to the couple, and the board was equipped with a secret trapdoor where he stashed the diamond ring.
Justin wrote,
It took a lot of planning, but I enjoyed every second of it. I'll never forget that day.
In case you were wondering, Michal said "yes" because, let's face it, no one on Earth could turn down an awesome proposal like this!
Justin won the game of love by proposing to his now-fiancée, Michal, with a custom Monopoly board.
First, Justin used Excel to design his own property cards...
...along with Chance and Community Chest cards he printed out on stock paper.
Justin decided to make the board out of a vintage icebox...
...and had a pal hand-carve the designs into the board.
Then, Justin finished off the project by creating all of the pieces for the game.
He gave this incredible game to Michal as a Christmas present...
...and the couple played the game that day.
Every place on the board had a special meaning, from how they met on Match.com...
And their first date at an ale house...
To the hotels they stayed in...
The streets they grew up on...
The lakes they both love...
...and some of their favorite places to visit in California.
The board also had a compartment for all the cards and game pieces...
...as well as the custom rule book.
Justin popped the question with a "Will You Marry Me?" Chance card.
Michal said "yes" and advanced to the Luxury Tax space on the board...
...which lifted up to reveal a gorgeous engagement ring!
Everyone was a winner in this lovely game of Monopoly.
Citations: This Monopoly Board Proposal Is Possibly The Most Romantic Thing Ever (Metro)