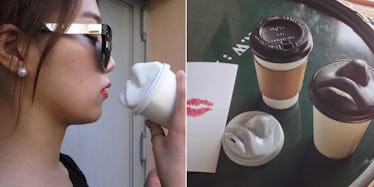 These Face-Shaped Coffee Lids Make Drinking Coffee So Much Steamier (Photos)
I love coffee just as much as the next person. However, you probably won't find me making out with a hot cup of Joe any time soon.
But hey, if you're into that sort of thing, you'll be glad to know you can now score a cup of coffee that gives you some extra sugar with each sip.
South Korean designer Jang WooSeok just created a new (and pretty bizarre) coffee lid designed to look like a real human mouth. The functional lid is supposed to add a fun twist to your morning beverage by creating the illusion you are actually drinking your coffee through another person's lips.
Yeah, I know. Leave it up to South Korea to make toilet-shaped tea cups and coffee lids that just want to be loved.
Take a look at the pictures below to see these interesting coffee lids.
You can now take your love affair with coffee to the next level...
...thanks to Jang WooSeok's lovely new coffee lids.
After noticing how dreadfully boring normal coffee cups looked...
...WooSeok decided to create a cup that ditches the traditional design for a lid shaped like a human nose and mouth.
The cup is supposed to make you feel like you're sipping your coffee from a stranger's lips...
...because let's face it, who wouldn't want to start a morning off with a few caffeinated kisses?
These lids further prove coffee is bae.
Citations: Human Face-Shaped Coffee Lid Makes You Literally Kiss Your Morning Cuppa (Design Taxi)