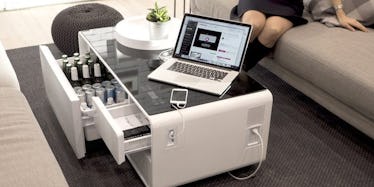 This Coffee Table Doubles As A Fridge So Pregaming Will Never Be The Same
Indiegogo
Tired of having to play host when your freeloading friends abuse their privileges during the pregame? Kiss that annoyance goodbye, my friend.
This high-tech coffee table is about to change your life. Behold the Sobro, a smart coffee table designed to make life a lot easier for your lazy ass.
If you look at your current coffee table, there's a good chance the Sobro makes it look like a footstool. That's because this thing comes fully loaded with convenient charging ports for your mobile devices.
The product description on Indiegogo reads,
The Sobro is a smart coffee table designed to support your connected lifestyle.
It also features built-in Bluetooth speakers so your aux cord hog of a friend can DJ without ever having to leave your favorite spot on your own couch.
That's not even it, either. The Sobro also offers TV connection capabilities and LED mood lighting (because standard lighting is for party poopers).
What if I told you all of those features aren't even the best part of this must-have coffee table? The best part is the fact it doubles as a mini fridge so you can store all of your cold ones in the middle of your living room.
YES, PLEASE!
With a refrigerated drawer, Bluetooth speakers, charging ports, and LED lights, the Sobro keeps you powered up. It could be the greatest living room innovation since the remote control.
If you're not big on pregaming, the Sobro will still change your life. Imagine binge-watching your favorite Netflix shows without ever having to leave your couch for snacks.
That's a life I one day wish to live.
Check out the clip below and prepare to hate your coffee table.
All we need is for the Sobro's Indiegogo page to be a success. Oh, wait, it already was. The creators of this masterpiece were looking to raise $50,000 to help make the Sobro "cooler coffee table" a reality.
It looks like people really want one of these because they were able to generate over $900,000, obliterating their initial crowdfunding goal of $50,000.
As for the price tag you'd be paying for one of these sweet babies, try a cool $1,500. However, if you choose to financially back the product on Indiegogo this month, you can snag one for only $699 when it drops.
For updates on when the Sobro will be available for purchase, check this out.
Citations: This Coffee Table's Built-In Fridge Means You Never Have To Get Up Again (Huffington Post)