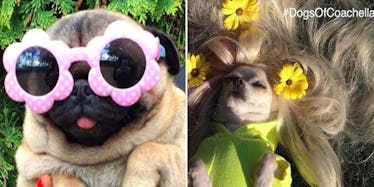 It's Scary How Accurate These Memes Of Dogs Being Basic At Coachella Are
If there's one thing we can learn from the Internet, it's animals always make things a thousand times funnier.
Remember when we showed you that amazing Instagram account of man's BFF being basic?
Well, those PSL-sippin' pups aren't the only common canines out there.
If you've been paying attention to social media, you have probably noticed an influx of basic festival-goers on your newsfeed.
But you know what's even better than rolling your eyes as you scroll through a never-ending stream of flower children? Seeing the usual Coachella suspects depicted as hilarious dogs, of course!
That's right. BarkBox recently set out to turn a bunch of dogs into hysterical Coachella memes that poke fun at the types of people you would expect to find roaming around the music festival.
Now, other people are joining in on the fun and posting their own "Dogs of Coachella" photos on Instagram.
I'm not sure which is funnier: the hippie outfits on these hounds or the spot-on captions that perfectly describe each pup's not-so-unique personality.
Take a look at the pictures below to see these comical Dogs of Coachella.
Ugh, the romper struggle is so real.
Daisy chains for days.
How hard is it to find a salad and some dry shampoo around here?
Way too old for this sh*t.
Can't see the hippie haters with my sunnies on.
Always down for some D.
Thirsty for some Coachella bros.
I've never felt so alive!
Brace yourself for basic Coachella selfies.
Can you help me? I can't seem to find Molly.
Filters on filters on filters.
Damn, I'm going to need to find a new accessory now.
Life's ruff, I need a beer.
Do these sunglasses make me look young?
This henna tat is totally worth it.
Dreads are so 2015.
I just wanted a pic with Kylie, is that too much to ask for?
That's odd, I don't remember falling asleep here...