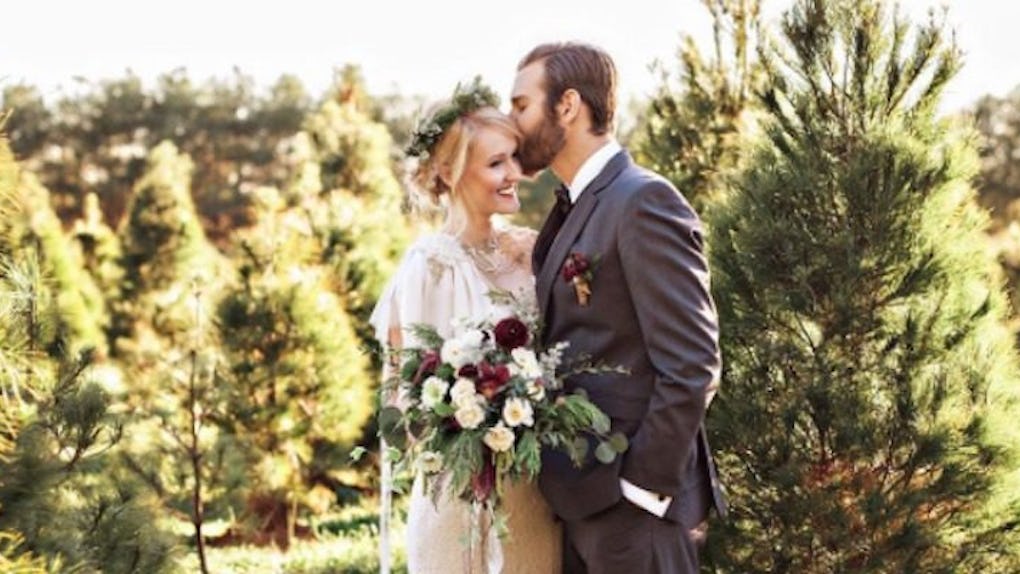 Amilia Photography
Christmas Tree Farm Weddings Are The Best Way To Wed
It's almost ~the most wonderful time of the year~ again. And you know what that means…
There'll be much mistletoeing And hearts will be glowing When love ones are near It's the most wonderful time of the year
The holiday season is also an incredibly romantic time to tie the knot (if you couldn't tell from the major mistletoeing action going on above).
There's something unparalleled and stunning about having a soft snowfall and intimate white lights to set the scene for breathtaking wedding pictures.
What better way to bring the festive mood to utter perfection than having your wedding ceremony and reception at a tree farm?
Winter lovers and wedding fanatics alike went wild over Sarah Vickers and her hubby Kiel James Patrick's breathtaking ceremony at Henry's Christmas Tree Farm in Hope, Rhode Island last year.
Everyone fell in love with this dreamy affair, and it's most certainly clear why they did. This couple's special day defined a winter-wonderland fairytale, from the beautifully lit Christmas trees throughout the farm to the festive arch the couple tied the knot under.
And these other stunning Christmas tree farm weddings will most likely make you want to get married in the pines…
It's hard to deny there's something oh-so magical about the pines.
You'll fall head over heels with this couple's sweet wedding video weaving through the Christmas tree farm.
The striking greenery makes the ultimate backdrop for romantic photos of the bride and groom…
…And irreplaceable moments for the bridal party, too.
This bride looks like the rustic chic queen of the tree farm, complete with a flower crown.
The rich, woodsy colors highlighted in her bouquet are simply stunning.
Are you in love yet? Because I am.
The woman who posted this Instagram photo revealed, "We're not actually married...BUT We did have so much fun doing this elopement styled shoot today..."
This shoot definitely sets the mood for a couple's special day, that's for sure.
Plaid accents, anyone?
'Tis the season…
…To tie the knot with that special someone (at a Christmas tree farm).