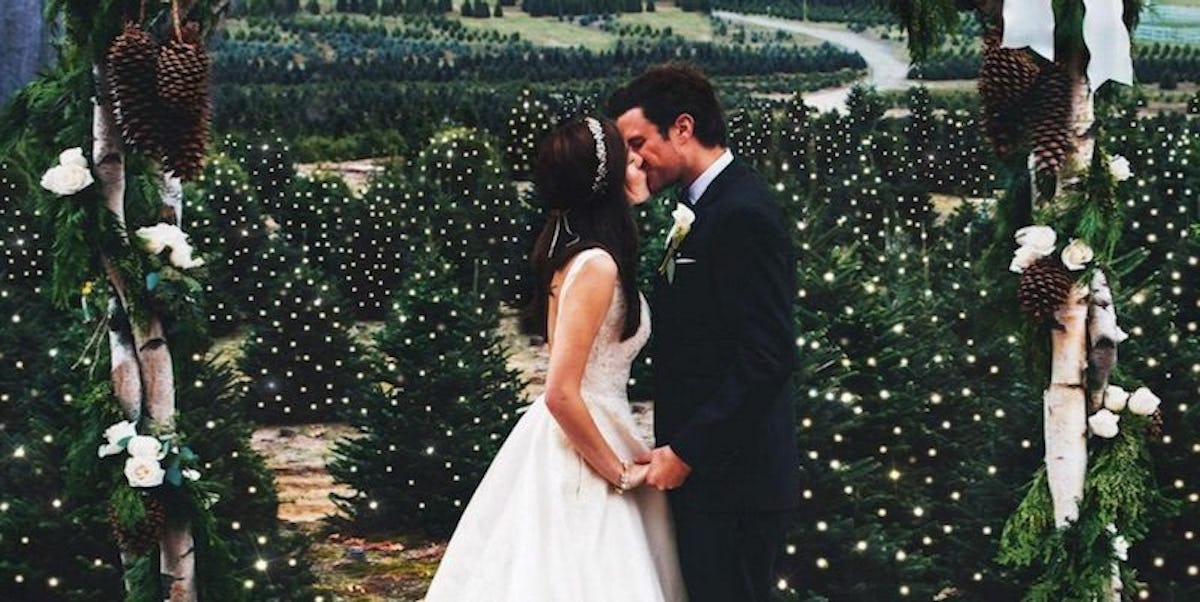 This Christmas Tree Farm Wedding Might Be The Most Perfect Wedding Ever (Photos)
We've all seen our fair share of impressive winter wedding ceremonies.
But Sarah Vickers, the stylish gal behind the blog Classy Girls Wear Pearls, just took #WeddingGoals to a whole new level with her insanely gorgeous farm wedding.
That's right. Vickers and her fiancé, Kiel James Patrick, tied the knot at Henry's Christmas Tree Farm in Hope, Rhode Island, and their ceremony was basically a fairytale IRL.
So what inspired these two to take the plunge at a pine tree farm?
Apparently, the couple planted a tree on the farm shortly after they began dating 15 years ago.
Since then, they've visited the farm each December to pick out their Christmas tree, so it only made sense to have their winter wedding at this charming little tree farm.
If that's not enough to make your heart melt, you'll be glad to know the two said "I do" with hundreds of dazzling christmas trees twinkling in the background.
Take a look at the pictures below to see their picture-perfect wedding.
Sarah Vickers and Kiel James Patrick just took winter weddings to the next level...
...with an insanely charming ceremony at Henry's Christmas Tree Farm.
They turned their annual trip to Henry's into a Christmas tradition.
This couple definitely knows a thing about sharing some seriously special moments...
...like when Patrick popped the question in front of a European castle complete with a firework display, of course.
Their rustic, tree-lined wedding was just as romantic.
The couple made their way to the alter through the rows of pines...
And stopped to take a selfie along the way...
...before exchanging vows in front of a forest of shining Christmas trees.
If that's not cute enough, the couple also recreated one of their old pictures from the farm wearing their wedding outfits...
...before hopping into a Jeep and heading over to their reception, where they celebrated the big day with apple pie, wedding cake, gingerbread cookies, eggnog and some merry holiday music.
Citations: This Incredibly Charming Wedding Happened at a Christmas Tree Farm (Cosmopolitan)