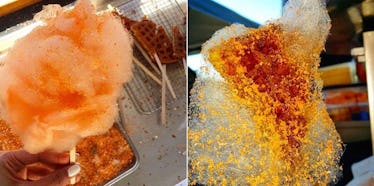 This Cotton Candy Made Of Cheese Looks Bizarre And Incredibly Delicious (Photos)
When it comes to food you see on the Internet, you just never really know what type of concoction you'll encounter next.
Well, I doubt you've ever seen anything like this before.
Feast your eyes on cotton candy made of cheese. Yes, that's cotton candy made using cheese and topped with bacon and -- you guessed it -- more cheese.
Responsible for these cheesy-sweet hybrids is Waffles Inc., a California-based restaurant. And since the snack is made by a waffle company, it features a doughy waffle in the center of its stick.
One of Foodbeast's Instagram captions describes the cheese cotton candy, saying,
Cream cheese waffle on a stick encased in a cloud of cheesy cotton candy and crumbled cheese sprinkled on top.
Count me in.
Check out the photos below for a closer look!
This isn't your average cotton candy on a stick. This is actually a cheese-covered waffle on a stick with cheesy cotton candy wrapped around it.
The discovery was made by Foodbeast at Oozefest, a cheese festival held by the publication.
The fact the cotton candy pictured next to this popsicle looks a lot like Donald Trump shouldn't stop you from wanting to try it!
Citations: Photos Of 'Cheese Cotton Candy' Are Surfacing And I Can't Right Now (Foodbeast)