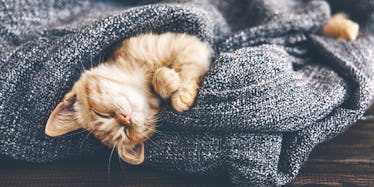 5 Adorable Cat Cafes Around The World You Need To Visit ASAP
Shutterstock
For all of us cat lovers around the world, there is one thing we can all rejoice in: cat cafes popping up all over the globe. And what's better than drinking a great cup of coffee with adorable cats lying in your lap? Um, basically nothing.
The trend first kicked off in Taiwan in 1998 with major cities worldwide following suit. Here are the five best cat cafes you need to visit before you die.
Paris -- Le Café des Chats
Fortunately for you, there are two great locations in Paris for this adorable cafe. The cafes work closely with animal protection organizations to ensure their cats live their lives as happily as possible.
This means the cats are never caged, even at night, and they have plenty of space to roam and be out of reach so no cat will ever be forced into an uncomfortable situation.
But more importantly,  happy cats mean more cuddles for you while you sip on your coffee or hot chocolate, and two locations means two great places to take a break from your Parisian shopping.
Brussels -- Le Chat Touille
This cafe works closely with a cat rescue shelter, Maison de Suzy. The cats selected to hang out at this cafe are friendly, love being played with and petted, and are up for adoption. Visiting this cafe practically ensures you'll get some one-on-one time with a cute little kitty.
There are also cats from a wide variety of breeds to snuggle with. You can sip on coffee or tea, but you can also get your drink on so you can drunkenly adopt cats to cure your sadness.
London -- Lady Dinah's Cat Emporium
Lady Dinah's Cat Emporium is the first ever cat cafe to grace the map of London. Because of that, spaces fill crazy quickly, so it's necessary to make a reservation there.
This cafe is largely against cat cafes filling up to the brim with cats they don't have space for. At Lady Dinah's, the tea house only takes in a small amount of animals to provide the most calm and relaxed environment for both you and the cats -- and relaxed cats mean more opportunities for you to snuggle with them.
While you're there, be sure to invest in some nail stickers or pocket mirrors with the cats on them.
Amsterdam -- Kattencafe Kopjes
This kitten cafe is one of the first in Amsterdam, and it only permits 20 people in at a time to avoid overwhelming its cats. This cafe seems designed to be both pleasing to the cats and to your eyes with its sleek lines and neutral upholstery.
Unlike other cats in other cafes, these cats are not for adoption. Kopjes is their home where they are free to roam and feel comfortable because removing and adding cats can cause the remaining cats unnecessary stress. This just means you'll get the same great experience every time you go!
Washington, DC -- Crumbs & Whiskers
At this cafe, you can enjoy all of your favorites in one place: friends, cats, coffee and yoga. C&W hosts the most adorable kitten parties and cat playtime events year round, including yoga with cats.
The cafe has successfully had over 100 adoptions since it opened in June 2015, which means fewer felines in cages and more cats off the streets.
With many events coming up at the cafe and a second cafe opening Los Angeles, you'll have plenty of time to interact and play with these adorable kitties.
These five adorable cafes give you an opportunity to knock two things off your bucket list this year: world travel and unique dining. Not only can you have a great cup of coffee, but you can enjoy some adorable kitties too!
Citations: Feline fun in Japan's cat cafes (BBC)