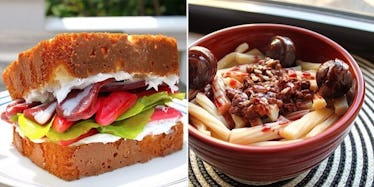 This Genius Uses Candy To Make Epic Plates Of Delicious, Savory Food (Photos)
Sometimes, the appearance of food can be pretty deceiving.
A while back, we showed you the masterpieces of Jacques Lamerde, the chef who makes a plate of junk food look like a gourmet meal.
However, that clever chef isn't the only one who transforms dishes into delicious displays of eye candy for foodies. Jess Gaber, the woman behind Candy Cuisine, is another talented foodie who whips up all sorts of sweet, Instagram-worthy meals with secret twists.
While her dishes may look like your ordinary savory foods, you'll be surprised to find all of her recipes have one thing in common: They're made out of sugar. That's right, each one of her artistic meals is made entirely out of candy.
So, what inspired her to use sweets as her edible mediums of choice?
On her website, Gaber wrote,
There is something about candy that makes people smile; there is something nostalgic about it too.
Take a look at the pictures below to see her amazing gourmet confections.
McCaramel Nuggets
Tac-No Salad
Fun-ion Rings And Mozz Sticks
BLTease
Healthy Eating Never Tasted So Sweet
French Toast Just Got A Whole Lot Sweeter
Spaghetti And Sweetballs
Tea Sandwich Treats
A Slice Of Heaven
Satisfried
Treatloaf
Nacho Average Chips And Guac
Miso Hungry For Fried "Rice Krispies"
The Golden Nugget
Sugarshimi