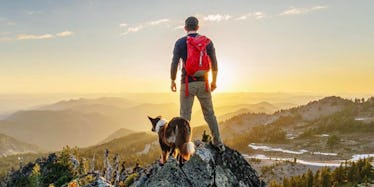 'Camping With Dogs' Perfectly Pairs Man's Best Friend And Nature (Photos)
Anyone who has ever met me, even in passing, knows that I am an all-inclusive animal lover.
Animals are the best, guys: They're like living teddy bears that cuddle with you willingly. They won't steal your clothes like an annoying roommate or cheat on you like a crappy boyfriend. And they don't talk! They're truly the most perfect companions a person could ask for.
While I'd like to believe my love for critters is unparalleled, I know there are countless others like me out there, who believe animals are #1 and people, a measly #2.
Ryan Carter is one of those people.
The Nashville-based dog owner recently launched Camping With Dogs, a company devoted to encouraging dog owners to spend more time with their furry friends.
Carter's pup, Cooper, was the inspiration for the holiday.
Carter's goal is to encourage folks to "celebrate [their] furry friends"...
By getting outside, exploring and sleeping in a tent.
For months, Carter promoted #campingwithdogs on Twitter…
...and asked families who participated to share their family camping pictures.
Hundreds of pet owners joined Carter's cause...
They unplugged, relaxed and bonded with their dogs...
Some opted for peace in the mountains or by the sea…
...others sought adventure, scaling cliffs and climbing trees.
Some went alone, with just their best pal...
...for others, National Camping With Dogs Day was a full-family ordeal.
Though not officially sanctioned, National Camping With Dogs Day enjoyed great success.
Just look at that face — that's pure happiness.
So support Carter's cause, and make this day a tradition.
Citations: Camping With Dogs Instagram Will Inspire You To Go Hiking With Your Dog (Bored Panda)