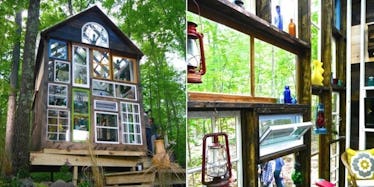 This Eccentric 'Glass House' Is The Vacation Getaway Of Your Dreams (Photos)
Every now and then, it's nice to unplug from the world and escape our tech-obsessed lives.
If you've been looking for the perfect excuse to go off the grid for a while, look no further.
Nestled in the rural woodlands of Massachusetts, you'll find the "Glass House," an adorable window-filled cabin that is both charming and good for the environment.
The house was built by Derek "Deek" Diedricksen using eco-friendly materials like reclaimed wood and recycled glass windows. The project took his team four days and less than $10,000 to construct.
Take a step inside this rustic 140-square-foot dwelling, and you'll discover a quirky interior featuring a front wall filled with windows, colorful knick-knacks, a large skylight for the ceiling and a sleeping loft complete with tree branch railings.
The "Glass House" has no electricity or running water, so if you don't mind forgoing modern amenities, this cabin really is the perfect place to find some peace and quiet.
The "Glass House" is a cozy little retreat located in the woods of Massachusetts.
The custom cabin uses eco-friendly, reclaimed materials and boasts no electricity or running water.
This eclectic retreat gets its name from the abundance of recycled glass placed throughout its design.
Along the front wall of the "Glass House," you'll find lots of windows lined with colorful glass bottles and hanging lanterns.
The cabin also has a large polycarbonate skylight that floods the interior with light from above...
...and a sleeping loft that transforms tree limbs into railings.
Citations: A Tiny House That's Big on Glass (House Beautiful)