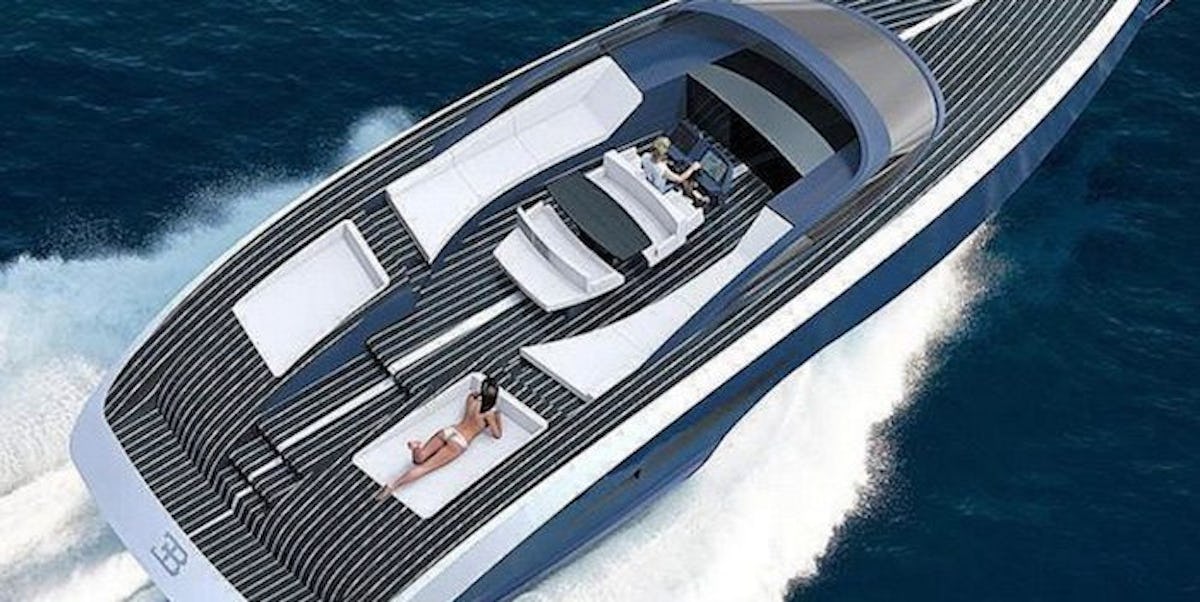 Bugatti Just Designed Its First Yacht, And It Looks Absolutely Insane (Photos)
If you weren't able to get your hands on a Bugatti, behold, the next best thing.
Sure, Bugatti Veyrons will always be at the tops of unrealistic wish lists. However, Bugatti stopped production of the supercars, meaning Veyrons are even harder to obtain -- even if you actually have the money!
Not to worry. You can now start saving up for a Bugatti in yacht form.
According to Playboy, the automaker, owned by Volkswagen Group, teamed up with prestigious yacht builder Palmer Johnson to create a series of elegant, lavish sport yachts crafted from the finest carbon fibers.
The series will be called the Niniette yacht series and is reportedly named after the original Bugatti founder's nickname for his daughter.
Yeah, this sounds great and all, but at this point, I know you just want intel on the price tag. Try a cool $3.5 million.
After all, it is a Bugatti in yacht form!
Check out the photos below for a closer look.
Ever wonder what a Bugatti in yacht form would look like? Try this.
Just as luxurious as you expected, isn't it? The yacht also features a top speed of 38 knots, which is about 44 mph.
Bugatti and yacht-maker Palmer Johnson joined forces to craft a line of luxury yachts called the Niniette series.
So, what do you think? Worth emptying your piggy bank for?
Citations: Bid farewell to the most insane hypercar ever — the $2.6 million Bugatti Veyron (Business Insider), BUGATTI MAKES YACHTS NOW, AND THEY'RE AS BALLER AS YOU'D EXPECT (Playboy), The $3,500,000 Bugatti Boat Is A Dingy In The Palmer Johnson Lineup (Jalopnik)