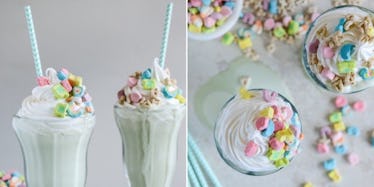 Vodka-Infused Lucky Charms Milkshakes Make Your Cereal Dreams Come True (Photos)
If you've never ripped open a box of Lucky Charms and picked out all of the marshmallow bits for easy eating, you haven't really lived.
Everyone knows the marshmallows in each box make Lucky Charms worth eating in the first place. And guess what? There's an interesting way to make the marshmallows even better than they already are.
Drum roll, please... Lucky Charms milkshakes!
We came across a mouthwatering recipe from How Sweet It Is, detailing exactly how to go about crafting your very own Lucky Charms-topped vanilla milkshakes.
Let's just say, after you try one of these, you'll never eat Lucky Charms in a bowl again!
All you'll need to get started are Lucky Charms marshmallows, milk, vanilla ice cream, marshmallow-flavored vodka, vanilla extract, marshmallow frosting and extra cereal to top it all off.
Behold, two Lucky Charms milkshakes.
You can make your own by using the delicious, pastel-colored marshmallows from a box of Lucky Charms!
The best part? These shakes include vodka. I guess you could say this is how adults consume the most important meal of the day.
With less than 10 ingredients needed to craft one of these, it's relatively easy to make.
So, what are you waiting for? Go be a kid again. But this time, do it with marshmallows and vodka!
Citations: 11 Boozy Milkshakes To Help You Survive August (Thrillist)