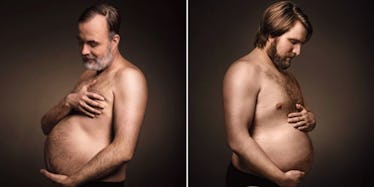 These Hilarious Ads Show Men Cradling Their Beer Bellies Like Pregnant Women
We've all seen our fair share of maternity photo shoots that feature expecting mothers showcasing their beautiful baby bumps. But did you know that pregnant women aren't the only ones using their bellies to capture the beauty of motherhood?
It turns out that men are also getting in on the action by proudly showing off their bellies for the camera. Beer bellies, that is.
That's right. German beer company Bergedorfer Bier recently teamed up with the advertising firm Jung von Matt to create a series of hilarious beer ads that poke fun at pregnancy photo shoots.
These series features a bunch of men cradling their big, round beer bellies in nothing but their underwear, along with the clever campaign slogan, "Brewed with love." And as you can imagine, these parody photos are funny AF.
Now, you're probably wondering, "What inspired this comical advertising concept?"
Apparently, Bergedorfer Bier was tired of the over-sexualized, picture-perfect models you usually see in drinking ads, so the people over there decided to use a different approach to connect with their customers. They ditched the six pack-clad models for some more relatable models who actually look like they drink six packs on the reg.
Take a look at the photos below to see these hysterical beer ads:
Bergedorfer Bier and Jung von Matt challenged advertising norms in the beer industry by ditching the picture-perfect models you normally find in ads...
Einfach nur großartig. #Bergedorfer #Bier pic.twitter.com/nyzzJCynQP — Christoph Benesch (@chribenesch) April 28, 2016
...for men who aren't afraid to strip down to their skivvies and strike a variety of signature pregnancy poses to show off their beer bellies.
Derrière «un bide de bière» se cache un heureux événement ? https://t.co/NANlJVug3z #pub #WTF #BergedorferBier pic.twitter.com/ArM8ab5Gug — Actuphoto (@actuphoto) June 28, 2016
If seeing a bunch of men cradling their beer babies isn't funny enough, you'll be glad to know that each image is also superimposed with the spot-on slogan, "Brewed with love."
Ad campaign by Bergedorfer Bier, a German Beer company pic.twitter.com/SylHze4K0W — Gautam Trivedi (@Gotham3) June 28, 2016
This body positive beer company definitely deserves a round of applause.
Unsexiest, yet most accurate #beer commercial ever https://t.co/SI8x7XjpN5 #GermanBeer #BergedorferBier #advertising — Multiple Momstrosity (@Sarabethbug) June 27, 2016
Citations: German Beer Ad Shows Men Cradling Their Beer Bellies Like Pregnant Moms (Bored Panda)