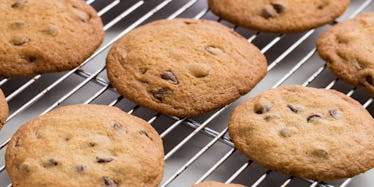 You Can Now Make Those Delicious Tate's Chocolate Chip Cookies Yourself
I happen to have a serious sweet tooth.
So when it comes to snacks, chocolate chip cookies are my ultimate weakness.
However, I also happen to be lazy AF, so if there's one thing I love just as much as stuffing my face with cookies, it's convenience.
In fact, I'm pretty sure the only reason my diet doesn't solely consist of cookies is I'm usually too busy sitting on my couch scrolling through Instagram to go to the store to buy a delectable box of Tate's Bake Shop cookies.
Yep, laziness can be both a blessing and a curse.
If you happen to share the same struggle, you'll be glad to know your days of being a cookie-less couch potato are about to become things of the past.
Someone just figured out how you can make Tate's signature crunchy cookies right in the comfort of your own kitchen.
The copycat recipe of these tasty treats comes complimentary from the foodie folks over at Delish, and the best part is the whole mouthwatering process is broken down into just a few simple steps.
Take a look at the pictures below to see these homemade confections.
Delish just cracked the recipe code for Tate's Chocolate Chip Cookies, so now you can have you favorite snack without taking a trip to the store.
To make these sweet treats, you'll first need to combine flour, baking soda and salt in a large mixing bowl.
In another bowl, mix regular sugar, brown sugar and butter. Beat in two eggs and vanilla extract.
Next, slowly stir in the flour mixture. Then, add the chocolate chips to the dough.
After that's done, you'll need to roll that delectable dough up into 1-inch balls and place them on a parchment-lined baking sheet (as you resist the temptation to eat the whole bowl of cookie dough, of course).
Finally, simply add a sprinkle of sea salt to each one and pop those bad boys in the oven. Within no time, you'll have a tray of homemade Tate's cookies just waiting to be devoured.
Citations: Here's Exactly How to Make Tate's Chocolate Chip Cookies at Home (Delish)