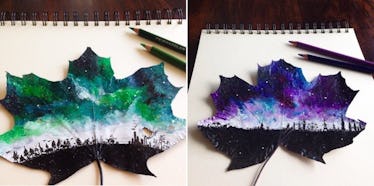 Self-Taught Artist Creates Absolutely Stunning Paintings On Fall Leaves (Photos)
Most people try to get rid of fallen leaves by raking them into piles and tossing them away.
However, one creative painter found an awesome new way to repurpose the foliage of fall.
Joanna Wirażka is an artist from Poland who creates all sorts of stunning works of art on, you guessed it, leaves!
After she finds the perfect leaves, she uses colored pencils and acrylic paint to transform her leafy blank canvases into brilliant landscapes, city scenes and starry night skies.
It takes Wirażka about three hours to complete each one, but it's time clearly well spent because each one of these masterpieces serves as a beautiful tribute to Mother Nature.
This young budding artist is on a mission to make the world a better place with her nature-inspired art and hopes her project will motivate others to "find real art everywhere and let it inspire you."
Take a look at the pictures below to see this gorgeous autumn artwork.
Joanna Wirażka is an artist from Poland...
Who collects and repurposes autumn leaves....
...by transforming them into breathtakingly beautiful paintings.
Her artwork showcases stunning sights from all around the world.
So far, she used leaves as canvases to create everything from California vistas...
And gorgeous galaxies...
To pretty paradises...
Twinkling cityscapes...
Iconic skyscrapers...
...and bustling New York City streets.
All of her paintings look simply incredible and remind us to embrace the beauty of Mother Nature.
Citations: Artist Uses Fallen Autumn Leaves As Canvases For Gorgeous Paintings (DesignTAXI)