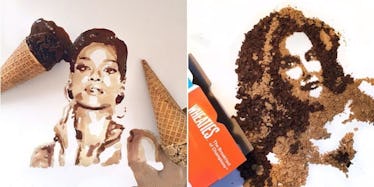 Artist Makes Absolutely Incredible Celebrity Portraits Only Using Food
Jessie Bearden is not your average artist.
The 23-year-old New Yorker is making headlines for her celebrity portraits she makes out of various food and drink items — think ice cream, coffee and even poppy seeds.
She told PEOPLE,
I got really sick of painting because it was just too limiting.
Having turned to more edible sources, Bearden's celebrity portraits can take up to four hours. But, she loves the process — and she's not the only one.
Recently, she was commissioned by McDonald's to create a campaign for McCafé, painted (fittingly) using coffee.
Check out some of Bearden's work below, and follow her on Instagram for more.
Caitlyn Jenner -- Wheaties
Biggie Smalls -- ketchup and mustard
John Lennon -- poppy seeds
Rihanna -- ice cream
Beyoncé -- frosting
Jimi Hendrix -- popcorn
The Beatles -- salt and pepper
Lady Gaga -- milk
Elvis -- chocolate syrup
Jimi Hendrix -- fruit
Citations: This Brilliant Food Artist Made A Portrait Of Caitlyn Jenner Out Of Wheaties (Cosmopolitan)