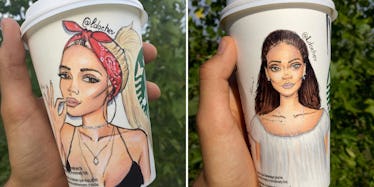 Artist Creates Flawless Drawings Of Pop Culture Icons On Starbucks Cups (Photos)
Instagram
Usually, the most amusing part of buying coffee is seeing how badly Starbucks misspells your name on the side of the cup.
But, it turns out there are much more entertaining things you can do with coffee cups.
Don't believe me? Just ask 19-year-old Lyubomir Dochev.
This artist, who is based in Bulgaria, recently decided his Starbucks cups had higher purposes than just to hold scorching hot coffee.
So, he started to repurpose his paper cups into blank canvases and set out to create all sorts of stunning celebrity portraits on the sides of his cardboard caffeine vessels.
Dochev received a lot of buzz after posting a coffee cup bearing a beautiful illustration of Cara Delevingne on Instagram, so he decided to expand his collection of coffee-cup art to include all sorts of stylish celebs ranging from Rihanna to Kim Kardashian West.
If you ask me, Dochev's awesome artwork sure beats staring at foam smiley faces on the surfaces of your lattes.
Take a look at the pictures below to see Dochev's incredible sketches.
Rihanna
Princess Pia Mia
Gigi Hadid
Bella Hadid
Zendaya
Valentino
The Kardashian-Jenner Sisters
Cara Delevingne
Citations: This Artist's Drawings of Celebs on Starbucks Cups Are Seriously Amazing (Cosmopolitan)