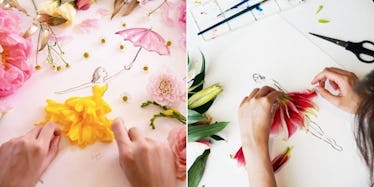 Artist Makes Absolutely Gorgeous Fashion Paintings Using Flower Petals (Photos)
Christian Dior once said,
After women, flowers are the most divine creations.
Florals tend to be one of those timeless trends that always ends up returning to the runway.
Grace Ciao is one talented illustrator who really knows how to go beyond the runway to bring her floral fashions to life.
The Singapore-based illustrator set out to create a stunning visual series. Ciao took her stylish sketches to the next level by incorporating watercolors and real flowers into the designs.
The final products are soft, petal-adorned paintings that look so elegant, they will make you wish you could actually swap out your #OOTDs for a few real-life flower ensembles.
Ciao has a strong following of more than 48,000 fans on Instagram thanks to her amazing artwork, and she has worked with major fashion players in the style scene such as Saks Fifth Avenue and Jaeger-LeCoultre.
Take a look at the pictures below to see her fabulous floral couture.
Grace Ciao is no ordinary fashion illustrator.
This talented artist creates stunning flower-inspired styles...
...that incorporate real petals into the paintings.
Ciao starts off by creating a delicate watercolor painting...
Then she dresses her illustration in beautiful blooms...
...by painstakingly arranging petals into an elegant design.
Once all of the flowers are in place...
...she uses glue to secure the petals to the paper.
The result is a delightful display of a floral fashion ensemble.
Her work includes everything from rose-garnished gowns...
And designs decked out in dahlia petals...
To dainty David Austin rose dresses...
Amazing amaryllis ensembles...
...and even colorful flower couture fit for Disney princesses.
If only we could see her designs in real life on the runway.
https://instagram.com/p/6TTFaKxP3z/embed/
Citations: Artist Creates Stunning Fashion Illustrations With Real Petals (Metro)