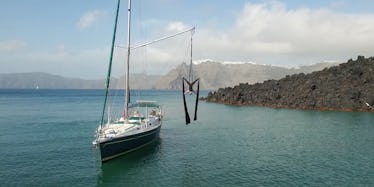 This Dancer Bravely Performed Aerial Yoga While Dangling Above The Ocean
YouTube
One common misconception about yoga is that you have to physically take part in it in order to feel the relaxation and total bliss overtake your mind, body and soul. False. Instead, you can sit back, relax and watch yoga instead.
In a video uploaded to Vimeo by filmmaker George Georgoulakis, we're taken to the Erossea Villa in Santorini, Greece where Κaterina Soldatou performs aerial yoga.
Now, I'm not a yogi, nor have I ever attempted to even try yoga, but just watching this is relaxing.
Soldatou navigates above the blue waters while attached to the boat's sail as she performs a series of beautiful yoga poses you couldn't even pay me to try!
Athens-based director George Georgoulakis captures Soldatou's mesmerizing aerial yoga routine through a series of different angles inviting viewers to take a closer look at a rare form of the spiritual practice.
At first, I couldn't figure out why people were so obsessed with yoga but one look at this and I totally get how you might be able to "find your happy place" swinging from a piece of fabric above the ocean.
Check out the video above for a closer look.
Citations: Such Beauty: Aerial Dance Over Santorini Island (The 6 Million Dollar Story)