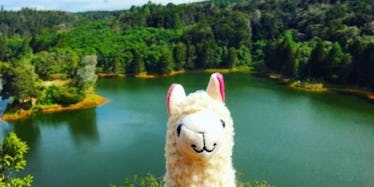 This Adorable Stuffed Llama's Instagram Account Will Make Your Day
Instagram
How exactly do you deal with the endless drama that comes with living on Earth?
While some of us sip wine, indulge in marijuana and binge-watch our favorite Netflix shows just to get away from the madness that is life, others have found different outlets to rid themselves of stress.
Take this llama, for instance.
Now, this isn't just ANY old llama - this is the Llama With No Drama.
This stuffed animal sensation is crushing Instagram and racking up a ton of followers in the process. See, this stuffed llama just knows how to live. The secret ingredient to life? A change of scenery!
This genius llama trots the globe and shares it with the world all in the name of happiness.
According to Mashable, the uplifting Instagram account was created by self-proclaimed world traveler and foodie Eylul Savas. By sharing Llama With No Drama, Savas plans to increase the amount of times you crack a smile and decrease the invasive drama we're all exposed to on a daily basis.
In an interview with Mashable, Savas revealed her inspiration behind the account. She said,
Overall, the world's drama was the trigger point. Everyday, as if trying to deal with our daily struggles is not enough, we're also being exposed to lots of sad news.
The llama's Instagram bio reads,
One happy llama against the world's drama. For a daily dose of smiles.
It's that simple.
Check out the photos below for a closer look at where she's been!
Meet the Llama With No Drama, a stuffed animal who just wants to make your day better one Instagram post at a time.
https://instagram.com/p/BDyBxWPMhPW/embed
The uplifting Instagram account was created by world traveler and foodie Eylul Savas.
Llama With No Drama urges you to be stress and drama-free with heartwarming captions that just might put you in a good mood.
"Me, myself and I = No drama." That's the way to live!
We all need a little break from the news and the chaos of the world.
Fortunately, this llama knows nothing but love and world peace.
Not to mention, she's probably traveled to more places than either of us ever will.
From rooftop parties in the city...
...to farms in Colombia...
There aren't many places this little llama hasn't been.
Breakfast with Audrey Hepburn, anyone?
If you're ever feeling down, keep the Llama With No Drama bookmarked for easy access.
Where will the Llama With No Drama end up next?! We'll just have to wait and see.
For now, just remember, "spending time in nature does wonders for the soul!"
Follow @llamawithnodrama on Instagram for updates!
Citations: Adorable 'Llama With No Drama' Instagram account is here to help you de-stress (Mashable)