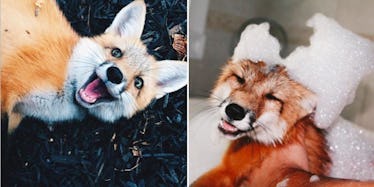 This Tiny Pet Fox Is Literally Always Smiling And It's The Cutest Thing Ever
We've all seen people who have seriously cool pets.
My parents happen to be scientists, so growing up we had the typical family dog, plus a variety of interesting critters ranging from de-scented skunks to exotic reptile species.
On any given day my house basically looked like an episode of "The Wild Thornberrys" -- minus the monkey and the ability to communicate with animals.
Apparently, my crazy parents aren't the only ones out there who like to think outside the box when it comes to selecting the perfect pets for their homes.
We came across a woman who has a pet fox named Juniper, and this lil' fox might just be the cutest thing on the face of the planet.
I mean, OK, maybe I'm a bit biased because I was also obsessed with the movie "The Fox and the Hound" as a kid, but seriously, Juniper's precious photos do not disappoint.
Take a look at the pictures below to see Juniper's adorable Instagram account.
Say "hello" to Juniper.
Juniper is probably the happiest pet to ever live.
I mean, seriously, just look at this delightful fox.
No matter what she does, she always has a giant smile on her precious face.
Lately, Juniper gained a lot of attention on social media.
But then again, it's not hard to see why the Internet is so enamored by this little lady.
She's definitely one of the cutest things to ever happen to Instagram.
When she's not flexing her adorable fox sweaters...
Or dressing up as a mythical unicorn...
...you can find this happy fox posing in the backyard with a fabulous flower crown on her head.
If that's not enough to melt your heart...
You'll be glad to know Juniper also has a barking BFF...
...and they are basically like "The Fox and the Hound" IRL.
Plus, Juniper also has some seriously impressive #TBT photos that are so ridiculously precious...
...they'll basically bring tears to your eyes.
Citations: Meet Juniper, The Pet Fox Who's Basically An Orange Dog (Bored Panda)