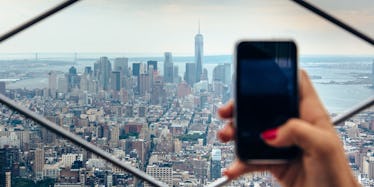 8 NYC Hotspots That Opened In 2016 Where You Can Take The Perfect Insta
When it comes to New York City, you can never really run out of options for dining, drinking and playing.
Because New York is forever changing and reinventing every square inch of itself, we're constantly blessed (or cursed?) with new restaurants and nightlife choices popping up.
Cursed because, if you're anything like me, your list of places to try in this city is always growing in length and volume. For every one or two knocked off, three more are added on. It's a perpetual circle of never catching up.
But hey, at least you're never out of places to test.
This year was a great year for new openings in New York City. Some were spectacular, some I could've done without.
But after looking back on a year of food and booze in the concrete jungle, here are my top eight New York hot spots that opened in 2016.
Mr. Purple
As the buzziest rooftop bar of the year, Mr. Purple offers us panoramic views of New York City. With signature cocktails like the self-titled "Mr. Purple" (made with Casamigos reposado tequila, cranberry liqueur, allspice dram, apple, lemon and served punch style) and yummy small plates, this was the place to be this summer.
Street art meets street food at this gargantuan mecca of globally-inspired cuisine from Chef Chris Santos.
You know it from the graffiti-style menus blowing up your Instagram or everyone's selfies with the giant purple rabbit. I mean, if Heidi Klum hand picked the venue to host her annual Halloween bash, you know it was a hotspot this year.
Squares
This is a cheeky twist on the traditional nightclub, catering to the "new" NoMad crowd.
The Quality Branded team (think: Quality Meats, Quality Italian, you get the picture) transformed the popular club Riff Raff's (where everyone was dying to get their faces smeared with war paint) into Squares, where they serve actual squared-shaped food and a special "Lego Club Mule" that comes in a mug created out of cubic Lego-like pieces. It costs $25 and it's worth the Instagram you'll get.
Delilah
Delilah is a brand new joint located in the heart of the Lower East Side, where St. Jerome's once was (which was a favorite hangout of Lady Gaga's). This new restaurant and lounge from nightlife veteran Mino Habib (think: The DL, Veranda and The Attic) reflects the edgy vibe of the LES.
The revered LA sushi chef behind this popular spot on our other coast just opened his first NYC location in Flatiron, complete with a simple menu & omakase options.
Note: They don't take reservations! It's a first come first serve basis.
Le Coucou
If you're looking to impress anyone in your life and drop a couple bills on a super-serious dinner, Le Coucou is the place to do it. It's very French, fancy and flawlessly fantastic. Plan ahead and reserve a spot here for your milestone events in 2017.
Another Frenchy-favorite (I'm convinced I was French in my past life), Mimi is like a petite and sultry woman with a loud spirit. It's sexy and makes you want to drink fancy cocktails all night. A total hit in 2016.
Emmy Squared
Detroit-style square pizzas are rare in the city of circular pies, but Emmy Squared is the Williamsburg hotspot that took over New York's over-dominated pizza culture in 2016 when it started serving hand-made pizzas in an irregular shape. They serve other types of Italian fare, too, but this new pizza joint is worth every bite of their odd-shaped pies.
If you didn't make it to them all this year, don't worry! Just add them to your ever-growing list and tackle them in 2017.