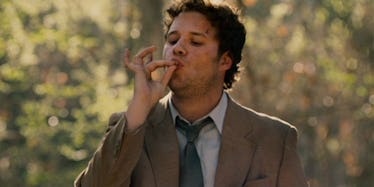 The Perfect 420 Celebrations For The Weed Lover Who's Too Busy
Pineapple Express
High, y'all. It's your favorite crippled rapper Tommy2Stix (I know, I'm probably the only one you've heard of).
The time is upon us for one of my favorite high holidays. The others are 7/10 (because, well, I'm a sucker for dabs), 2/10 and 1/5 (because I celebrate fractions of 4/20).
I mean, to be honest, I medicate consistently because it gives me an energetic boost. I have Central Core Myopathy (a rare form of Muscular Dystrophy), and smoking weed gives the muscles throughout my body a chance to rest and recover. Medicating also gives me a chance to focus and get ready for what is coming up in my day.
Although, 4/20 (at least before I started in music) has always been a day I'd spend in a cloud of smoke. Now, that was before I made the call to go to law school, something that kind of dropped a casual f*cking five-pound-monkey-wrench of work into this awesome holiday.
Around this time of the year, I am studying between six and eight hours on the few days I don't have class. If I do have classes, I'm in the library until 9 pm typically (just writing about studying is making me tired).
Luckily, I'm halfway done with school. I mean, I still have to take the bar after I graduate, but that's not something I can do anything about right now, so why worry, right?
Since this is the second year I'm gonna be swamped on 4/20, I have some tips I wanted to share with all the other people who want to celebrate but are swamped with work.
I broke it down to two different levels: Slightly Toasted and It's Lit.
Slightly Toasted
You're going to want to smoke somewhere the smell will not linger, like a sunny and secluded spot that has a nice breeze. If you can get yourself a small can of Ozium, that will also help to knock the smell away without adding an extra layer of odor.
This is helpful if you happen to use combustion when you smoke something, whether it's a one-hitter, a piece of fruit or a glass bowl (aka, a spoon), depending on your, like, preferred nomenclature, dude.
Now, if you're in a recreational state, or if you've got a medical card, your options will be more varied and awesome. Beyond getting some flower to smoke, you can also pick up pre-rolls (which typically come two ways: a pack of joints or individuals).
You can choose from packs of pre-rolls, like California's Finest (which has a bunch of top-shelf strains, like Berner's Cookies or Zkittlez) or Triple Mini J's (they come in an Altoids-sized tin, which is discrete).
Pre-rolls come as individuals, too, like G-Stiks. Or, if you like blunts, go for Barewoods, which is a custom-rolled Backwoods, packed with top-shelf bud and nug-run concentrates, which also comes with a reusable glass tip.
Personally, I'm not much of a fan of most pre-rolls because I think I can roll joints better.
Now, if you're more of a do-it-yourself type of guy, who still loves to smoke some flowers and is blessed to live here in California, there are some amazing growers who've been cultivating some stupid fire.
Bert Baccaratt is one crazy motherf*cker. You may have seen him on social media rolling one of his crazy custom blunts -- sharks, dabbing rigs. Hell, I've even scene him roll a royal scepter; though, his El Perro OG is really legendary.
WonderBrett is the second grower I typically try to get my flowers from, and they've got six strains that are stupid good: Clementine, Pineapple OG, OG Wonder Kush, Girl Scout Cookies, Brain Candy and Strawberry Bubblegum.
Another starting option for those of us in the legal states are pre-filled concentrate pens. These guys are great, namely because when you use one, it doesn't smell as much as, say, when you burn a fat bowl of OG Kush flowers.
So, basically, you may not even need to go outside to smoke. Just find somewhere that isn't too crowded.
There are a few different types of these concentrate pens, though, typically, most are made with a solvent-free concentrate.
This is something that can work great, but at the same time, there are a lot of companies that don't really take the extra steps to ensure a high-quality disposable.
One of the companies that does try for this is Shatter Tanks, which has been making a bunch of pens filled with a wide variety of strains by working with known extract companies, like West Coast Cure and Natures Lab Extracts.
These pens last for a while, and even if you forget you had the cartridge for a few weeks, the day you find it again and load it to a 510-thread vaporizer (like the G-Slim from G-Pen), it's going to taste as fresh as the first time.
It's Lit
You can take all the tips from above, and keep toking from there.
Roll up ahead of time, whether you like blunts (it takes around 8-14 minutes to smoke one, depending on how big it is), joints (7-15 minutes for a king size, depending on how fat you roll), or both.
If you had a chance to scoop up a variety of strains, roll up each flavor individually, then combine however you want. Find a container to keep what you rolled up safe, dry and out of others' observation.
If you've got it around, use an old protein powder container solid in color and big enough to keep a bunch of joints and blunts. Or order blunt containers online.
Now, if you've gone from smoking flowers to dabbing concentrates, don't worry; I've got some tips for you, homie. Personally, I've not found a vape that really brings out the full flavor and effect as compared to a rig. (I'm still holding my breath for the G-Pen Elite Concentrate version; the flower version is fantastic and a solid part of my vaping collection.)
Get yourself a solid 10 mill glass travel piece (don't forget a base saver to keep your piece stable), like The Puck from Nexus, K-Nine Glass mini beaker or Dr. Greenthumb Glassworks.
Next time you go to your local head shop, ask the person behind the counter if he has any generic American or Chinese Quartz, so you have something to dab on that you don't have to worry about breaking. Plus, a great thing about Quartz is it cools down faster than a titanium nail.
Get a small Newport torch (not twist-head version, so it's easier to handle), a solid titanium dabber with a carb cap (Highly Educated is the high standard), a RigRag so you can wipe the dabber off after your dab, and wrap it up after you're done.
Now that you've got the hardware, you're going to need the software -- aka, some concentrates. Now if you aren't in a state where you can't get concentrates, there is a safe alternative in rosin.
If you're in California, though, or another medical/recreational state, you've again got a lot more options. Bottom line: If you're going to be busy on 4/20, there are still ways to make sure you can celebrate -- just do it safely.
Remember: You can still celebrate 420 at 4:20.