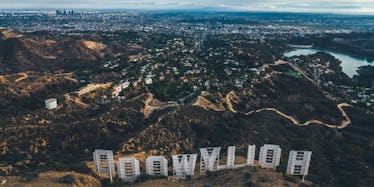 20 Photos That Perfectly Capture What It's Like To Live In Los Angeles
Ever wonder what it might be like to live in the City of Angels?
For decades, Los Angeles has been a breeding ground for some of the world's most successful businesses and people. In addition to being nicknamed the City of Angels, LA's reputation for being the city of dreams tends to reel people in from all walks of life.
This might leave people wondering: What's it like to actually live everyday life in such a major urban city? Aside from the yoga studios, juice bars, and car customization shops, what are the real sights and sounds that come with the coveted territory?
We partnered with Los Angeles-based photographer and visual king Van Styles to capture 20 photos that perfectly encapsulate life in Los Angeles!
In a recent interview with the VISUAL founder, who comes from a skateboarding background, Styles reveals,
Los Angeles is a massive and beautiful city. Just when you think you've seen it from all angles, you find a new way to take it all in. That alone makes it one of the most ideal cities to live in as a photographer.
Check out the breathtaking photos below, accompanied by a few interesting facts!
Los Angeles locals are referred to as "Angelenos."
The average Los Angeles resident is 35 years old.
In 1931, over 25,000 palm trees were planted in Los Angeles by the city's forestry division.
The City of Angels offers about 75 miles of sunshine-soaked coastline year-round.
The world famous Hollywood sign originally read "Hollywoodland" from 1923 to 1949.
The most commonly dropped objects on freeways in LA are, oddly enough, ladders.
Los Angeles is home to five different airports including LAX, the fifth busiest airport in the world.
The US Bank Tower is the eleventh tallest building in America, towering over the city of Los Angeles at 1,018 feet.
The city was initially named "El Pueblo de Nuestra Señora la Reina de los Ángeles," which means "the Town of Our Lady the Queen of the Angels."
Los Angeles claims and occupies over 500 square miles of land.
Downtown Los Angeles is home to approximately 50,000 residents.
The first movie theater in LA opened in 1902.
Over 60 percent of Los Angeles residents speak another language in addition to English.
There are 80 different neighborhoods in LA.
Griffith Park is referred to as the "Central Park of Los Angeles" and holds the reputation for being the second largest urban park in California.
Koreatown, a neighborhood near Downtown LA, is home to over 120,000 residents.
Los Angeles has the highest number of women-owned companies in the United States.
One of the most obscure laws in Los Angeles makes it illegal to lick frogs due to drug addicts using them as hallucinogens.
There are over 100 museums and 220 theaters in LA.
You should probably book your flight -- ASAP!
For more of his work, follow @VanStyles on Instagram!
Citations: Van Styles, Visual Artist (VISUAL), 50 Facts About Los Angeles (Friendly Local Guides)