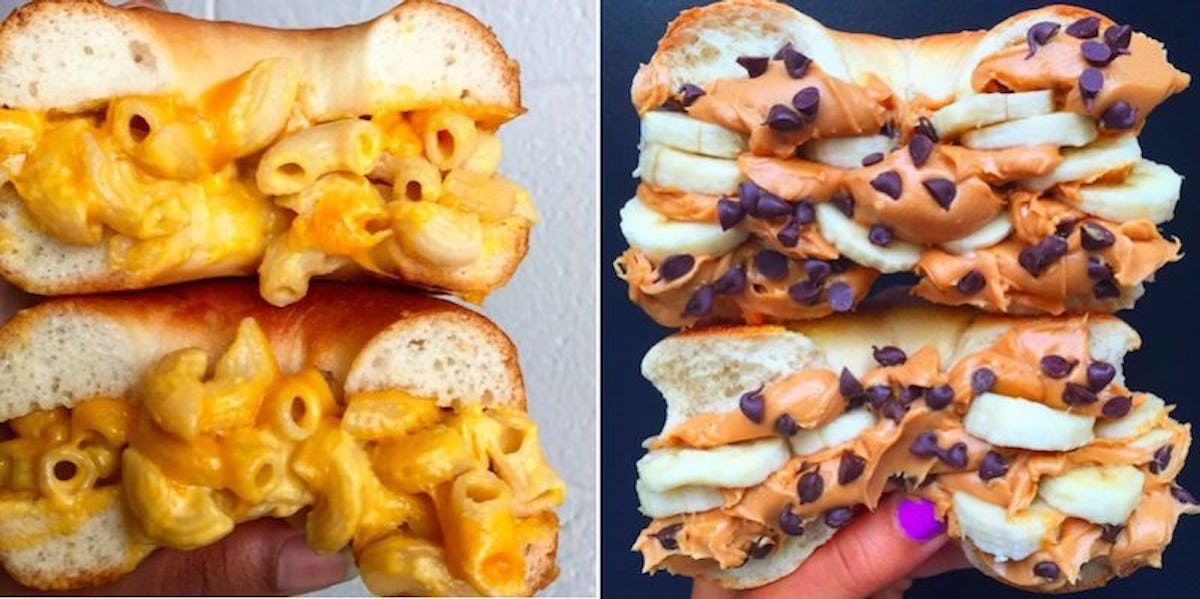 These 20 Bagels Will Give You Seriously Mouthwatering #BaeGoals (Photos)
Instagram
These days, there's a lot of competition out there when it comes to breakfast foods.
However, nothing beats starting your morning with the most almighty breakfast food of all: the bagel.
Because let's face it, everyone knows bagels are basically bae. If you've been sticking to boring bagels with plain cream cheese, you definitely need to step up your bagel game.
From countless insane flavors to bagels with stacks of bacon and eggs, there are all sorts of ways to upgrade your basic bagel and turn it into a truly mouthwatering masterpiece.
So in order to give you some breakfast #BaeGoals, we set out to find some of the most heavenly bagels on the face of the planet and trust me, these bad boys do not disappoint.
Take a look at the pictures below to see some serious blessed bagels.
This perfect pizza bagel.
This Cookie Monster creation.
This bacon, egg, cheese, avocado, tomato and Sriracha bae.
This scrumptious s'mores breakfast.
This fine lox bagel.
This blessed peanut butter candy bar treat.
This bacon, egg and cheese bad boy.
This fabulous French toast bagel with Funfetti cream cheese.
This badass butter, jelly, cheese and turkey bagel.
This mouthwatering mac and cheese bagelgasm.
This meaty ruben masterpiece.
This divine chicken salad BLT.
This sweet peanut butter, banana and chocolate chip bagel.
This stunning rainbow bagel with toasted coconut cream cheese.
This heavenly bagel stuffed with eggs and hash browns.
This colossal cookie dough bagel.
This pumpkin, brie and cranberry bagel perfection.
This delectable display of chicken cutlets between two bagel halves.
This tasty bagel teeming with ham, eggs and avocado.
Who needs a boyfriend when you can have a peanut butter Oreo bagel?