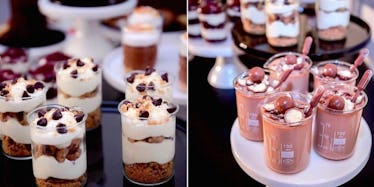 17-Year-Old's Insane Food Creations Take Dessert To A Whole New Level (Photos)
Thanks to the food porn revolution, we've all seen some pretty impressive desserts on Instagram.
Remember when we showed you those crazy milkshakes from Sydney, Australia? Well, it turns out those treat-topped shakes aren't the only tasty looking desserts from down under.
When it comes to whipping up some seriously insane sweets, Jonathan Massaad's creations really take the cake.
Seriously, this Aussie teen is a damn dessert wizard who even has his own line of sweets called Sugar High Desserts.
Apparently, Massaad got into baking when he was 11 years old. He started off by experimenting with supermarket cake mixes and simple decorations.
He certainly came a long way since then, and now, he spends his free time making mind-blowing sweets and posting all of his drool-worthy food porn photos on his Instagram, which already has over 21,000 followers.
Massaad clearly has a bright future ahead of him.
He told BuzzFeed,
I am only in year 11 of high school. I have decided that opening a patisserie would be best once I am within my final year at university completing a business course.
Take a look at the pictures below to see this high school student's awesome desserts.
Jonathan Massaad may look like your average 17-year-old...
But this Aussie teen is actually an incredibly talented baker...
Who makes all sorts of over-the-top confections...
...for his dessert line called Sugar High Desserts.
It's not hard to see this kid has baking down to a science.
All of his sweet concoctions look like tasty lab experiments.
He mastered the formula for everything from MILO panna cotta cups topped with Maltesers...
S'mores Cups...
And cups of Cookie Dough Cheesecake...
To bubble gum-flavored fudge pops in mini doughnuts...
Cups of Red Velvet Cheesecake...
Caramel popcorn tarts...
...and mini chocolate cakes topped with doughnuts.
Seriously, these things look so darn delicious...
...you'll want to eat everything -- including the spoon.
Citations: Life is sweet for the schoolboy who bakes: Meet Jonathan Massaad from Sugar High Desserts (Good Food), This Teen's Incredible Desserts Are Beyond Ridiculous (BuzzFeed)