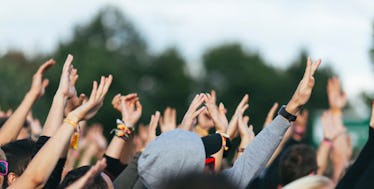 11 Good Reasons To Skip Coachella And Hit These Local Parties Instead
Look, we love Coachella as much as any other group of music-, art- and party-appreciating revelers.
But we also know not everyone has the funds to drop on a wristband, the time to spend in the desert for three days, or the desire to do a live reenactment of Violent Femme's "Blister in the Sun."
But being without a wristband doesn't mean your weekend should be without fun, music or a trip to the desert. There are tons of pool parties and live shows geared exactly toward people skipping the festival but not the partying.
For 2016, these are your best bets. We'll catch you poolside.
Desert Beach Party
Located six miles south of the festival grounds, Base Camp is a new RV and camping experience offering 40 acres of camping, swimming, music, art and more.
While those staying on property for the duration of the weekend receive priority for the day parties, all are welcome via online RSVP. The "beach" party will offer revelers a chance to enjoy DJ sets, cocktails, hot air balloon rides, the onsite pool and dips in the lake.
Interested in attending? Get your tickets.
Vestal Village VIP Pool Parties
This invite-only, super-exclusive event spans across four days of the first weekend of Coachella.
Nighttime desert campfires, pop-up restaurants, live music performances, a swimming pool, fishing lake, outdoor bars and other activities are offered to those staying at the village for the entirety of the weekend. But the VIP daytime pool parties are always a highlight.
While the location is secret (as well as the lineup), those hoping to attend can submit to be placed on the exclusive list.
Day Club Palm Springs
Goldenvoice, the company behind the festival at large, presents Day Club Palm Springs, a lineup of day parties featuring live music across both weekends of Coachella.
The weekend one lineup includes Dirty South, Mr. Carmack and Tokimonsta, while weekend two will feature Cash Cash, Rae Sremmurd, Skrillex and Lido.
Attendees can purchase tickets for individual days, or for the entire weekend of tunes, drinks and poolside partying.
Sound Presents: All Gone Pete Tong with Special Guests
Put on by Sound Nightclub, this is a special event within the larger Day Club lineup.
All Gone Pete Tong will headline, with Bob Moses, Dubfire, Lee K, Nicole Moudaber, Pete Tong and Thomas Jack rounding out the packed schedule.
Mojave Lords and More at Pappy & Harriet's
An hour from Coachella, even deeper into the desert, lies Pappy & Harriet's, an unsuspecting venue in remote Pioneertown.
The Saturday night lineup includes Mojave Lords, FATSO JETSON, Chris Goss, Alain Johannes, Boots Electric, Sinner Sinners and Strawberry Smog.
If you don't have tickets to the festival and are looking for something to do after the day parties die down, there's no better spot than Pappy & Harriet's.
Miike Snow with Bob Moses
During the second weekend of Coachella, Pappy & Harriet's presents Miike Snow, the Swedish, three-person band known for tunes like "Genghis Khan" and "Animal."
The show is sold out directly, but tickets are available for a higher price via StubHub.
8th Annual Desert Gold
For a different type of experience, head to the Ace Hotel's 8th annual Desert Gold.
Featuring a lineup of meditation, celestial beat-making and artistic events, including those from the David Lynch Foundation and Moog, the collaborative environment runs through both weekends of Coachella.
Localchella Sideshows
If you want to catch some of your favorite artists without splurging for a festival pass, then Goldenvoice's "Localchella" shows are the perfect happy medium.
Held at venues throughout Southern California, including the Fonda Theater, Glass House, Observatory and Fox Theater, locations for these shows are concentrated in the LA and Santa Barbara areas.
The 1975, James Bay, Matt & Kim, Of Monsters And Men and CHVRCHES are all on the lineup.
DJ Quik Live
Extend the long weekend with this live performance by DJ Quik, hip-hop recording artist and producer, for Coachella Tuesdays at one of Palm Spring's local nightclubs, Zelda's.
Culture Collide's "Not a Pool Party"
This year's installation of Culture Collide's annual festival kick-off event will be held April 14, and while details are TBD, we're betting it'll be a fun-filled night of music, entertainment and friendly faces.
Live bands and DJs will be announced soon, but we suggest RSVP'ing ASAP.
NYLON Midnight Garden Party
This party quickly earned a reputation for pulling out all the stops in terms of musical talent, guest list and VIP experiences.
Last year's lineup included performances from The Misshapes, The Dolls, Mia Moretti and Chelsea Leyland, and attracted celebrities including Justin Bieber, Chris Brown and Katy Perry.
We can't wait to see what they come up with this year.
The party is notoriously invite-only, but we trust you all to make the connections needed to snag a spot on the guest list.
This article originally appeared on Rally by Eventbrite.