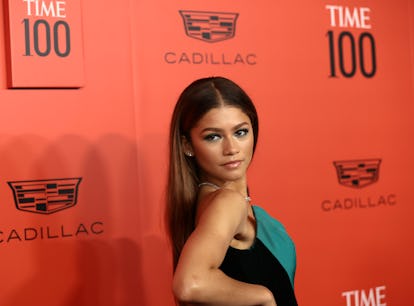 Zendaya Said She's "Probably" Going To Direct A Euphoria Episode Next Season
She's entering her director era.
Dimitrios Kambouris/Getty Images Entertainment/Getty Images
Acting, singing, dancing — what can't Zendaya do? The multifaceted star has endless talent to share and she's ready to add directing to the list. In a recent interview, Zendaya revealed she's probably going to make her directorial debut in Euphoria Season 3, after plans to direct a Season 2 episode fell through.
It's no surprise that Zendaya is a powerhouse, especially considering she made it on Time's 100 Most Influential People of 2022 and graced the cover, too. Season 2 of Euphoria took the world by storm at the beginning of 2022 and quickly rose the ranks as the most buzzed about television show on Twitter. Not to mention the accolades Zendaya's lead role of Rue awarded her, including a Primetime Emmy Award for Best Actress in a Drama Series. Now, Zendaya is looking to get even more involved in making the hit series. In a July 1 interview with Vogue Italia, Zendaya not only shared that she wants to (and "probably" will) direct a future episode, she was supposed to direct an episode of Euphoria but scheduling conflicts put her directorial debut career on hold.
The question posed to the star was simple: When are we gonna see you direct an episode of Euphoria? "I was supposed to direct Episode 6 [of Season 2] but then I had to act in it. I didn't have enough time so unfortunately, I wasn't able to this time around." Bummer, but all hope is not lost! Zendaya continued to share her desire to direct an episode next season. "I wanted to have enough time to do it the right way so next season probably." Did you hear that? It sounds like Season 3 will include an episode directed by none other than Zendaya herself. That's a pretty big deal, considering it would be Zendaya's first-ever directing credit.
There are plenty of loose threads for Zendaya to pick up and tie together in a Euphoria directorial debut. All of the characters are falling apart in their own ways and there's no question that Zendaya would direct with the utmost honesty and empathy. Her portrayal of the troubled teen Rue is proof that she isn't afraid of getting dark and gritty to tell a good story.
Zendaya has kept busy for the last several years by soaking up all of the opportunities that come her way. Outside of her role as Rue in Euphoria, Zendaya has become famous for her part in the Spider-Man franchise as the deadpan, whip-smart leading lady MJ. (Did I mention that she also gets to play opposite her real-life beau, Tom Holland?) Furthering her music career, she has collaborated with musician Labyrinth on the Euphoria soundtrack, most singing the emotional tracks "All For Us" and "I'm Tired," both of which scored season finales.
No official announcement has been made on when season 3 of Euphoria will start filming, let alone premiere, but I'm hoping it's sooner rather than later because the world deserves to witness Zendaya's director era.