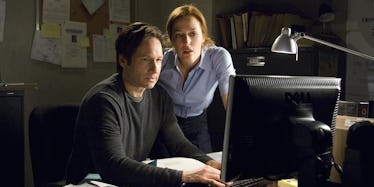 All Hail The X-Files Writers' Room
20th Century Fox Studios
File this under things that are real and true: "The X-Files" is definitely coming back, and with it, David Duchovny and Gillian Anderson are reprising their roles as FBI agents Fox Mulder and Dana Scully.
Set to begin production this June, the critically acclaimed sci-fi series that captured millions of viewers will return for a limited run of six episodes, after being off the air for 13 years.
A myriad of reasons surround the decision to renew the show. Possibly a big factor is the resurgence of old favorites, which has become trendy across different kinds of media.
The call to green light "The X-Files" has been brewing for some time now, but it truly reached its peak earlier this year.
Long time coming: the road towards #XFiles2015
As negotiations happen behind the scenes, the most prevalent concern on everyone's mind was: What's stopping "The X-Files" from getting made?
The interest was surely there. Perhaps a big push was all that was needed for the cult hit to be renewed, and who wouldn't be more influential than Scully herself?
After immersing herself in theater, it's quite refreshing to see Anderson's face on TV again.
Anderson currently plays psychologist Bedelia Du Maurier in "Hannibal," Bryan Fuller's adaptation of the psychological thriller by Thomas Harris.
She is also the police superintendent Stella Gibson in the "The Fall," a lauded crime drama from BBC.
It's undeniable how she has brought these two women to life, who are quite different from each other in terms of motivations.
Role Reboot went so far as to say, "In some ways, Gibson is Scully on steroids and ice cubes […] highly controlled, methodical, poised."
In a January episode of the "Nerdist" podcast, hosts Chris Hardwick and Matt Mira asked Anderson what it was like starting out in what would turn out to be one of the biggest shows on 90s television. She said:
"[Scully] had to be the boss in a few situations and tell people what to do. I was a professional FBI agent and a medical doctor — and I had to pretend like I knew my sh*t. "So when I was in situations where I had to talk to a large group of (usually) male police officers, fear sets in. I didn't feel like I'd had any of that experience myself or I was that person, or I was necessarily even capable of projecting that type of intelligence and authority in any way, shape, or form. "It took a while for me to have that experience backing me up, and I got better as an actor."
Of Scully-centric episodes, she said:
"I became obsessed. I realized the opportunity that I had, and I needed to work on it really hard. Through that process of taking it seriously on another level, from an acting perspective rather than just getting the lines out, that really shifted things. "I'm a child in the pilot, pretending to be an adult, it's so obvious."
When asked about the effect "The X-Files" has had in her life and career, Anderson candidly answered:
"I had no sense of the enormity of the fact that we were beginning to be a hit, and what that meant, and what the stakes were. All of a sudden it started to dawn on me: 'You've got a really big gig, and you've never done anything before in your life as an actor, and now you're on 'The X-Files.' "[The show] was an amazing thing to be a part of. Not only to be able to be such a cool character and to get to play her for so long, but to be a part of such an iconic show, and the beginnings of so much — of an intelligent woman on TV, and the duo and sci-fi."
Maybe it was the hour-long reminiscing of good times, but at the tail-end of the interview, Anderson suddenly brought up the possibility of the show coming back with an older Mulder and Scully.
"Do you think people will watch it?" she asked, hesitant and half-serious. The resounding answer? A chorus "OF COURSE!"
Hardwick and Mira latched onto it with enthusiasm, saying that they would be "f*cking overjoyed" about it. Right then and there, the campaign for #XFiles2015 was born, with a plan to spread it across major social media platforms.
According to Vanity Fair, the response was overwhelming. Suffice to say, come March, everything was eventually deliberated and approved by FOX, and creator Chris Carter came aboard, too.
With an anticipated two-night premiere starting January 24, 2016, the Internet has been squealing nonstop ever since the news came out.
Anderson wasted no time tormenting fans by tweeting Duchovny with Scully's famous words: "Mulder, it's me. Are you ready?"
His reply, "I'm ready G woman," all but annihilated a lot of timelines that day.
Elsewhere, several podcasts joined the fray, including Time magazine's The Brief on audioBoom, as well as the Science Fiction Film Podcast and MCM Comic Con.
Duchovny would later confess in an interview with Variety:
"We always wanted to keep it going. We always envisioned a movie franchise when we stopped the TV show, and we did two…[now] we're going to do six [episodes] — well, that's like doing a movie. "That's like continuing the show in a way that we all can do at this point in our lives... so many shows have come out of 'The X-Files.' So much of not only TV, but film has taken a turn into science fiction and superheroes."
Defying stereotypes and empowering women in science
Duchovny might be on to something there: "The X-Files" shattered a lot of primetime tropes and created new ones when it began airing in 1993.
While exploring the paranormal and the macabre, it was a welcome addition to the evening slot, inspiring fear and suspense amidst sitcoms and soaps.
There wasn't a lot of science fiction to enjoy back then, except for predecessors like "Star Trek," which focused on voyages in outer space, and "Twin Peaks," which bore David Lynch's trademark surrealism and study of the human psyche.
"The X-Files" sought to rebel against categorization by dealing with the unexplainable — from extraterrestrial abductions to mutants and monsters.
Carter's genius was felt not just in the stories themselves, but also in how these stories were told.
As our two protagonists, Mulder and Scully, become embroiled deeper and deeper in baffling situations, we, as an audience, find ourselves at a quandary. A
re we solving cases with our heroes, or unearthing new ones that might not have clear answers?
Carter also deserves credit for inverting the gender stereotype for men and women on TV. In an article in the Skeptical Inquirer, Erich Goode points out the norm:
"The believer is a powerless, marginal person and often a woman; the skeptic is almost always a man."
However, in "The X-Files," it is Mulder who ponders the unfamiliar and creepy. He is elbows-deep in a ton of unsolved files, forgotten in a tiny basement office that nobody wants to visit and gets nicknamed Spooky for all his troubles.
Scully, meanwhile, is the voice of reason. She uses logic and science to counter the weird, and is the more rational between the two.
We are introduced to her practical personality and straightforward philosophy on day one: "The answers are there. You just have to know where to look."
Her character was so significant in mainstream culture that it has encouraged young women to go into STEM careers, also known as The Scully Effect.
For more than a decade, Scully has shown us she can work in a habitually sexist environment and more than prove her worth.
She is not just a pretty counterpart, she's a very capable agent, with an expertise in forensic medicine and kicking ass.
Moreover, Mulder and Scully's equal partnership is sharply written and actively resisted falling into the trap of romance, despite fans' repeated pleas and declarations of agony for Carter to finally bring them together.
For all they've been through, they slip into trust and intimacy as easily and as familiar as the uniforms they don every day.
Any true X-Phile believed it was inevitable these two would fall in love; it was just a matter of when. And what a long wait it was; their first onscreen kiss happens all the way in season seven.
That's a lifetime by today's standards, but we wouldn't have it any other way.
The legacy of "The X-Files" writers' room
Another thing that made "The X-Files" revered among critics and viewers is how it unsettled the TV landscape with its numerous investigative cases, which will become later known in the industry as "Monster of the Week" episodes.
Perhaps an antithesis to big antagonists prevalent in films, this plot device allowed the main characters to encounter a villain for just one particular incident.
A story is completed for that week alone, enabling writers to come up with more compelling and tighter scenes.
Today, this is such a common thing, and is applied in a number of ways. For example, "CSI" deals with a different crime scene each episode, while "The Blacklist" introduces a new criminal off Raymond Reddington's catalog of felons every week.
"Sleepy Hollow" has Ichabod Crane and Abbie Mills battle with a number of Moloch's followers, and "Supernatural" has actual monsters.
"The X-Files" also paved the way for shows having a mythology or "myth arc," episodes focusing on an overarching narrative that we can follow over the course of the season.
This is where Mulder and Scully further their growth as agents assigned to solving the bigger mysteries, and where we learn of a bigger government conspiracy that kept us conversing for days.
It builds over time; Carter designed it as a slow burn, but when done well, it's worth the wait.
For instance, while "Person of Interest" depicts Mr. Finch and Mr. Reese racing against the clock every week to save someone in trouble, there is a predominant theme surrounding the show: the super advanced surveillance system called the Machine, which allows them to find the victims or perpetrators in the first place.
Similarly, in "Game of Thrones," seeds planted in the first season are now only coming to fruition in the fifth season. That's undoubtedly an unparalleled arc-based plotting, thanks to George R.R. Martin's exhaustive world-building.
Ultimately, a myth arc unfolds just as a good book should, and fortunately, the TV adaptation is on par with the novels, give or take its digressions.
Still, the best of what TV has to offer — what made everyone constantly utter the phrase "golden age" — is Vince Gilligan's "Breaking Bad."
It was a masterpiece of storytelling that brought verve back to the medium — all five seasons of it. Gilligan pushed boundaries in various aspects, be it cinematography, character progression or structural pacing, among others.
Is it any wonder that he first worked as a young writer for "The X-Files?"
In an interview with the Huffington Post, Gilligan said:
"I learned everything I pretty much know about TV from 'The X-Files'... I can't give it enough credit for the success of 'Breaking Bad' and everything else I've done since it ended. "First of all, behind the scenes, it taught me how to be a producer, and it taught me how to be a showrunner... [Chris Carter] expected us to shepherd our episodes all the way through pre-production and post-production. "I learned to expect the same of my writers, and it's held me in very good stead. If you expect your crew people, the folks around you, to have the same investment in the show as you do, if they feel the same ownership as you do, that can lead to great things... "As far as writing goes, from Chris I learned the idea of point of view. 'The X-Files' truly was an intensely cinematic show on television."
Gilligan is currently working on" Better Call Saul," a "Breaking Bad" spin-off, which is just as good.
Other writers who were once part of "The X-Files" and are now very successful and well-known for other terrific shows include: Howard Gordon and Alex Gansa ("24," "Homeland"), Jeff Bell ("Marvel's Agents of S.H.I.E.L.D."), Darin Morgan ("Fringe"), David Amann ("Castle"), Tim Minear ("Angel," "Firefly," "Dollhouse"), Frank Spotnitz ("Transporter: The Series") and John Shiban ("Da Vinci's Demons").
Even the JJ Abrams-helmed "Alias" and "Lost" owe a debt to Carter's ideas.
A new era of reboots
Is it a sudden attack of nostalgia that has us clamoring for decidedly long-dead series like "Full House" and "Coach?"
Certainly it's not due to a lack of what to watch next, considering that more Hollywood actors and directors are crossing over to TV from film. Frankly, it's really an awesome time for the small screen these days.
It would be interesting to see Mulder and Scully grapple with today's issues, which, come to think of it, are still relevant to "The X-Files" mythos.
After all, the show already undertook corrupt politics and government surveillance long before it became polarizing topics for many.
How would Carter write and deal with the NSA, WikiLeaks and the drone programs of today? What would the characters' reaction be to social media and smart devices? Would Mulder take advantage of e-readers and cloud storage? Where will this new journey take us? And are we ready?
At the heart of it, "The X-Files" examines not just the limits of the known world and the realm of the strange, but our capacity as human beings to alienate or embrace one another, regardless of our histories and beliefs.
The future, not just the truth, is indeed out there. And since there are no answers at the moment, here are some words to ponder from Mulder, as we once again step toward the edge of the unnamed and the unknown:
"Might we not finally turn to the fantastic as a plausibility?"