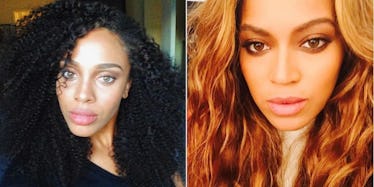 Woman Absolutely Crushes It With Killer Beyoncé Commercial Impressions (Video)
Beyoncé needs to start doing commercials. I'll buy whatever Beyoncé is selling.
The stock market crashed today and, let's be honest, the only way to fix it is to give it a major injection of Vitamin B.
We need people buying American products, shopping in American stores and believing the American economy is as strong as ever. I challenge you to name an entity exuding more power and strength than Beyoncé.
I would buy Enron stock TODAY if "7/11" had lyrics about the company being a financially sound investment.
In this video, actress/singer/Bey-personator Jade Novah shows the longer Beyoncé isn't a spokesperson in commercials, the longer the American financial system will suffer.
Bow down, economy.
[Video] "If Beyoncé did commercials..." #BeyMakesEverythingSoundBetter pic.twitter.com/ogqXtlPXd8 — Jade Novah (@JadeNovah) August 23, 2015
Citations: Now This Is an Awesome Beyoncé Impression (Marie Claire)