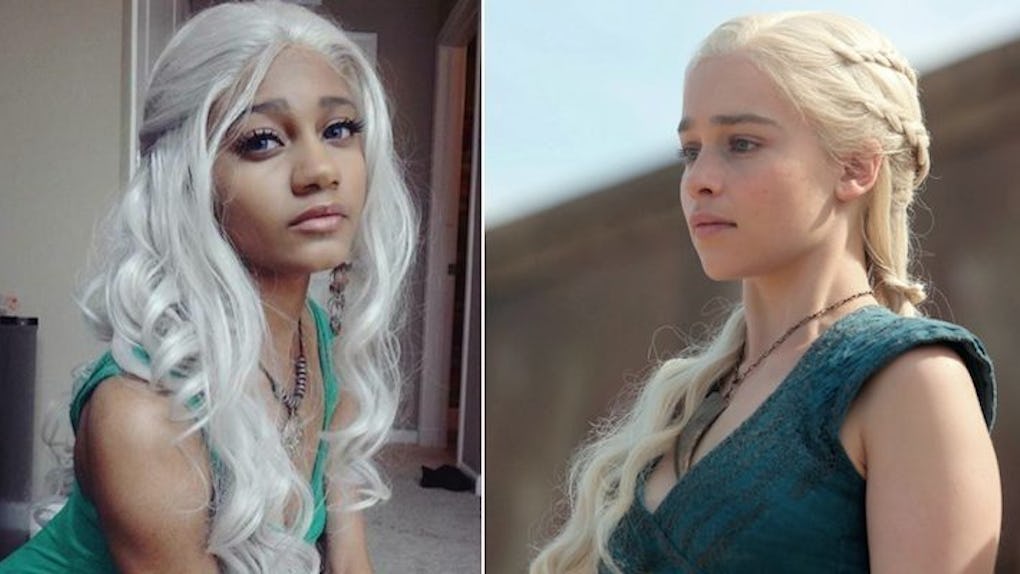 Facebook/HBO
OMG: This Woman Might Actually Be Daenerys Targaryen's Long-Lost Twin (Photos)
"Game of Thrones" fans are losing their minds over Artemis Faye, a Tumblr user who bears a striking resemblance to the show's coolest character, Daenerys Targaryen.
A while back the 19-year-old posted a series of selfies to her Tumblr account, not thinking much of it.
To her complete surprise, the photos went viral in a matter of hours, amassing a countless number of comments from total strangers.
Most of the comments shared a common sentiment. They said Faye looked exactly like the "Dragon Lady" in "Game of Thrones," a show the blonde beauty wasn't familiar with.
But, she quickly fell in love with the series after the unexpected feedback prompted her to begin watching it.
She also realized the commenters were right: She does look like Daenerys Targaryen.
Her admiration for the fantasy show eventually grew into a full-on obsession.
Now, Faye frequently dresses up as her lookalike character for conventions such as Anime Weekend Atlanta and MomoCon.
But even when she's out of costume, people recognize her.
Faye told BuzzFeed, "I literally can't get over how cool it is every time it happens."
She plans to continue to cosplay as long as she can.
She said, "I've met too many awesome people because of my Dany cosplays to give them up so soon."
Faye documents her cosplay adventures on social media.
Citations: This Woman Is The Real Life Version Of Daenerys Targaryen (BuzzFeed)