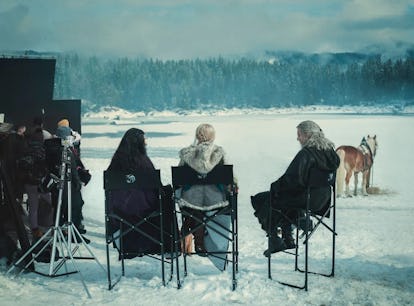 The Witcher Season 3 Is Coming Even Sooner Than Expected
Even Geralt would crack a smile at this update.
Netflix
It's a good time to be a fan of The Witcher. When Netflix premiered Season 1 of The Witcher in December 2019, it was the streaming service's first high-fantasy mega-hit. Along with greenlighting a second season, Netflix expanded sideways, with an animated film in August 2021, Nightmare of the Wolf, and a spinoff, The Witcher: Blood Origin, which will debut at the end of 2022. And of course, there's a new season of the main series on the way; The Witcher Season 3 has also been confirmed. And there's also another animated film coming and yet another spinoff.
Before Netflix got ahold of it, The Witcher was already the subject of multiple short story collections, novels, and a popular video game saga, so it makes sense that there are so many opportunities for new seasons and spinoffs. At its TUDUM fan event on Sept. 25, 2021, Netflix revealed a behind-the-scenes look at Blood Origin, as well as the announcement that there will be another animated film, most likely a prequel like Nightmare of the Wolf. Plus, a third series would be going into production, aimed at the Netflix Family brand. A kids' version of The Witcher may sound a little odd, but with such an expansive universe and several young potential protagonists that Geralt has met along the way, creating an all-ages action-adventure series isn't as far-fetched as it sounds.
But of course, the most significant update is that Netflix is already all-in on The Witcher Season 3, giving the third season the green light months before Season 2 hit streaming.
Here's a rundown of everything to know about the next season of The Witcher.
The Witcher Season 3 Cast
Although Netflix has not released an official cast list for Season 3, the Season 2 finale confirms Henry Cavill will, once again, return as Geralt of Rivia, the titular Witcher. Anya Chalotra will also be back as Yennefer, the love of his life, and Freya Allan as Ciri, whose training Yennefer will take over. Kim Bodnia will be back as Vesemir. And perhaps most importantly, the show will likely bring back fan-favorite Joey Batey as Jaskier so he can sing fans a few new earworms next season. Toss a coin to him, y'all.
Some other characters fans should expect to see stick around after Season 2's bloodbath ending: Anna Shaffer as Triss Merigold, whose relationship with Yennefer, Ciri, and Geralt continues in later novels; Mimi Ndiweni as Fringilla Vigo, Yennefer's main nemesis and now the survivor of The Witcher's bloodiest coup so far; and Eamon Farren as Cahir. Speaking of bloodshed, Mecia Simson will almost certainly return as Francesca Findabair, ready to wage war on humans now that she's lost her child.
As for all the people chasing Ciri, there are a lot of hunters on the warpath by the end of Season 2, most of whom will probably be back in some fashion: MyAnna Buring as Tissaia de Vries, Royce Pierreson as Istredd, Lars Mikkelsen as Stregobor, Ed Birch as Vizimir, Graham McTavish as Sigismund Dijkstra, Cassie Clare as Philippa Eilhart, and Chris Fulton as Rience. Plus, all the assorted northern rulers should return, as well as Sam Hazeldine as Eredin, king of the legendary Wild Hunt, and most importantly, Bart Edwards as Emperor Emhyr var Emreis, Ciri's biological father.
On April 14, 2022, Netflix revealed the first batch of new actors joining for Season 3. The group included several names from other sci-fi and fantasy franchises, including Meng'er Zhang from Shang-Chi and The Legend of The Ten Rings. She'll play Milva, a fierce human huntress adopted and trained by the dryads of Brokilon Forest.
Robbie Amell from The CW's version of The Flash will play Gallatin, the head of a Nilfgaardin guerrilla army known as Scoia'tael. Hugh Skinner (Star Wars: The Last Jedi) plays royal playboy Prince Radovid, King Vizimir's younger brother, and newcomer Christelle Elwin plays Mistle, who is part of a thieving gang of misfit teenagers, The Rats.
The Witcher Season 3 Filming Updates
On Sept. 25, 2021, Netflix promised The Witcher Season 3 will be heading viewers' way. Once upon a time, Netflix would regularly greenlight the next season of a series months ahead of the current season's premiere, including announcing Season 2s before shows even debuted. But that practice essentially ended circa 2017, and in recent times, the streaming service has been conscientious about renewals for shows that don't become a hit with audiences.
But The Witcher did not have that problem. Like Bridgerton (which was renewed for Seasons 3 and 4 long before Season 2's release), this series already had a following large enough that Netflix execs were happy to hand out early renewals ahead of time.
On April 4, 2022, Netflix confirmed Season 3 had begun filming and released a photo of the main cast hanging out between takes to prove it.
Filming wrapped several months later in September 2022.
The Witcher Season 3 Plot
With the filming announcement in April, Netflix also revealed the first synopsis for Season 3.
As monarchs, mages, and beasts of the Continent compete to capture her, Geralt takes Ciri of Centra into hiding, determined to protect his newly-reunited family against those who threaten to destroy it. Entrusted with Ciri's magical training, Yennefer leads them to the protected fortress of Aretuza, where she hopes to discover more about the girl's untapped powers; instead, they discover they've landed in a battlefield of political corruption, dark magic, and treachery. They must fight back, put everything on the line — or risk losing each other forever.
Showrunner Lauren Schmidt Hissrich has also dropped hints about what's to come. For book readers, it will be a relief. As fans may or may not know, Season 2 is mainly adapted from the novel Blood of Elves, but there's one significant storyline from the book that the season skipped right over: In the book, the dwarves, the human monarchs, and the elves have formed partisan groups called Scoia'tael. According to Hissrich, although the show tries to stick to one book each season roughly, sometimes the show "move[s] those chess pieces around a little bit." Speaking to Collider, she said, "There's a big story from Blood of Elves that we're gonna do in Season 3, for instance." Although she did not directly confirm she means Scoia'tael, that's the primary storyline Season 2 skipped, so it seems a good guess that may be it.
The Witcher Season 3 Trailer & Release Date Predictions
With Blood Origins slated for a Dec. 25, 2022 release and all past seasons of The Witcher debuting in December, fans expected Season 3's release date to wind up sometime in December 2023. But Netflix surprised everyone by instead announcing Season 3 would arrive in Summer 2023, around half a year sooner than expected.
There's still no exact release date or trailer, but fans can celebrate the confirmation that Geralt, Yennefer, and Ciri's adventure will be back partway through 2023.
This article was originally published on